With summer ending, and fall beginning, that means we're only one season closer to winter. And that means December. Christmas. Hanukkah. Birthdays? Certainly New Years.
Parties. Parties. Parties. Gifts. Potucks. You name it!
Fun times are ahead with food and family and friends. Which means, celebration, laughter, and entertaining tons of hungry people. But what to cook? What to buy as gifts?
Every vegan, or aspiring vegan, has a unique palette, a unique personality, and may have specific intolerances (such as gluten, nuts, or soy).
But this doesn't have to make the cooking or the shopping difficult.
I own about 7 or so vegan cookbooks myself.
And only a tiny percentage of those I got for myself.
The rests were birthday and holiday gifts from friends and family alike.
And all the books were utter successes.
Of course, my family and friends did not shop specifically for a particular type of vegan cookbook, so much so as figuring being vegan was all it took to buy one in the first place!
I own:
Thug Kitchen
plus their Party Grub book, (both of which I do mention in this post)
Chloe's Kitchen
Babycakes (another one I mention in this post)
But I Could Never Go Vegan!
The Sublime Restaurant Cookbook
Forks Over Knives
plus some others
So maybe a tad more than 7 books. Wow, I need to re-look over that collection.
Good thing I'm not picky!
But what if whom you're shopping for being a little more restrictive in how they want to approach a vegan diet? Well, good news for you: I've done some research to help personalise your selection to them. The following is a guide to choosing the perfect vegan cookbook to impress everyone you know: whether you're the one using it or giving it.
For the Vegan Beginner
Vegan 101: A Vegan Cookbook: Learn to Cook Plant-Based Meals that Satisfy Everyone
Amazon UK: https://www.amazon.co.uk/Vegan-101-Cookbook-Heather-Bell/dp/1943451362 
Amazon USA: https://www.amazon.com/Vegan-101-Cookbook-Plant-Based-Everyone/dp/1943451362/
Published: 2016
Created by vegan chefs Heather Bell and Jenny Engel of LA-based vegan cooking school, Spork Foods, Vegan 101 is an excellent start for those plant-based dreamers who are intimidated by the word vegan. With recipes for every skill level, this book is proven to satisfy everyone-- meat and dairy eaters included! With over 100 recipes to choose from, this book will take you from dabbling in vegan cooking to full-on vegan chef superstar!
Check out some reviews below:
"Vegan 101 is the perfect starter guide for the new vegan as well as a great cookbook for inexperienced and advanced cooks alike. The beautiful pictures inspire even a vegan non-cook like me to pick up a frying pan and get cooking!" –Dr. Jenn Mann, TV Personality, Celebrity Therapist, Entrepreneur
"I love the women of Spork Foods for providing delicious and easy to make yummy vegan recipes! Sometimes people are scared to try vegan, let alone try cooking vegan. So the fact that these recipes can fulfil great taste and don't require too much time in the kitchen is always something to look forward to!" –Krystal Bee, on-air personality for The Cruz Show on Power106
"Heather and Jenny are creative geniuses in the kitchen. Every one of their recipes that I have made has been easily executed and left my non-vegan diners wanting more. They are educators, entertainers, and chefs who make you feel like part of their family." ―Jenn K.
For the Vegan Family
Plant-Powered Families: Over 100 Kid-Tested, Whole-Foods Vegan Recipes
Amazon UK: www.amazon.co.uk/Plant-Powered-Families-Kid-Tested-Whole-Foods-Recipes-ebook/dp/B00U27BMPS/  
Amazon USA: https://www.amazon.com/Plant-Powered-Families-Kid-Tested-Whole-Foods-Recipes/dp/1941631045
Published: 2015
Ranked #1 on all searches, for Best Vegan Cookbooks for Families, this winner boasts loads of great kid-tested and approved plant-based recipes.
Featuring recipes like pancakes, pizzas, burgers and fries, cakes, and cookies, you can host a kid-friendly holiday party in a cinch!
Or better yet?
Please them with yummy, vegan food packed lunches all year long!
Reviews:
"If you've ever struggled with finding healthy, plant-based recipes that excite the entire family, look no further. Dreena's recipes are a triple threat: kid-approved, wholesome, and irresistible!" —Angela Liddon, author of the New York Times bestseller The Oh She Glows Cookbook and creator of OhSheGlows.com
"Finally, a collection of whole-food vegan recipes that our kids will actually eat! Not only are Dreena's recipes exciting, healthy, and kid-friendly, but her realistic meal plans, clear nutrition guidelines, and down-to-earth advice help give plant-based parents the confidence that they're doing this right. Mealtime in my house just got a lot more fun!" —Matt Frazier, vegan ultramarathoner, author of No Meat Athlete, and father of two young kids
"Dreena has jam-packed this book with tummy-satisfying, kid-tested recipes the whole family will gobble up. . . . It's an essential guide for families who want to turn over a new leaf without all the kicking and screaming." —Whitney Lauritsen, author of Healthy, Organic Vegan on a Budget
For the Vegan Baker
BabyCakes: Vegan, (Mostly) Gluten-Free, and (Mostly) Sugar-Free Recipes from New York's Most Talked-About Bakery
Link: www.barnesandnoble.com/w/babycakes-erin-mckenna/1100033405
Published: 2009
The earliest published vegan cookbook in this guide!
Wow!
Author and baker extraordinaire, Erin McKenna, knew what she was talking about before anyone else did.
Get this cookbook ASAP so that you, or a friend, can whip up allergen friendly red velvet cupcakes, scones, and more!
Plus, while you're at it, go ahead and give her introduction a good read, where she explains the struggles faced living an allergen-free lifestyle and the frustration of being forced to limit all of the sweet treats she once enjoyed. She's relatable, she's sensational, and her recipes are super easy to follow. SIDE
NOTE: I'm an owner of this book and feel like I could seriously win an episode of Cupcake Wars with this puppy. The cookbook includes no animal products used, making it perfect for allergen-friendly holiday parties, kids parties, bake sales, and potlucks.
Praise:
"In this book, Erin has finally shared her trade secrets — the ingredients and techniques that lend BabyCakes' desserts the flavours, textures, and happiness-factor you'd find in the best patisserie. The highest praise I can offer is this: follow her recipes to the letter, and you'll fool them every time." —Tom Colicchio (from the Foreword)
"At BabyCakes NYC I can eat what I crave without harming my lovely animal friends–or myself. Ever since that first fateful day, I've been waiting for this cookbook." —Natalie Portman
"I have multiple food sensitivities… and I'd pretty much given up on the idea that I might be able to have a worthy treat ever again. I was so excited to discover BabyCakes NYC, because not only can I eat everything they bake, it's all delicious!" —Zooey Deschanel
For the Laid Back Ones
Thug Kitchen: The Official Cookbook: Eat Like You Give a F*ck (Thug Kitchen Cookbooks)
Amazon UK: https://www.amazon.co.uk/Thug-Kitchen-Eat-Like-Give-ebook/dp/B00JV1W2YG
Amazon USA: https://www.amazon.com/Thug-Kitchen-Official-Cookbook-Cookbooks-ebook/dp/B00JVVQQ1G 
Published: 2013
One of my Faves.
I've owned this cookbook for about nine months now and have cooked practically every single recipe at least once.
It's delicious. Casual. Hilarious to read and everyone I've let taste test what I'm cooking grows wide-eyed amazed at how good everything tastes. This includes meat eaters!
Crazy. Meat-free, yet delicious, recipes include vegan Banh-Mis, almond butter and chocolate chip cookies, tofu scramble, and more!
See some reviews below:
"I'll start by saying, the food in this book is amazing. Out-of-this-world good. I live in Portland, the mecca of all things vegan, and my non-vegan friends have been clawing at my door to eat these recipes instead of eating out. It is some hearty, delicious stuff." -Maggie A.
"Love love love this cookbook. Four recipes in, I am a proud meat eating, 1000% non-vegan, but dam this food tastes good. The enchiladas alone make this worth the cost. Also, I like the swearing; they speak my f*%king language." -Drake
NOTE: Check out their Thug Kitchen: Party Grub cookbook for more (yeah, you probably guess it) party oriented foods. Brunch, daytime sports, dinner parties, you name it!
For the Raw Vegans
Raw. Vegan. Not Gross.: All Vegan and Mostly Raw Recipes for People Who Love to Eat
UK Amazon: https://www.amazon.co.uk/Raw-Vegan-Not-Gross-Recipes-ebook/dp/B0177265M0
USA Amazon: https://www.amazon.com/Raw-Vegan-Not-Gross-Recipes-ebook/dp/B0177265M0
Published: 2016
Laura Miller, star of YouTube's Tastemade channel proves that eating a raw vegan diet is, in fact, not gross with this top seller.
Great for those looking to lose weight the healthy way, and appreciate food in its most natural form. Raw. Vegan. Not Gross provides excellent tasting recipes like raw vegan cheese, burritos, and pop tarts (all made from raw foods) that fill you up and taste great.
Buying this book will make the transition to raw plant-based eating, sticking to it, or just spicing things up a bit totally worth it.
Reviews include:
"Scared of eating raw? Heard it's healthy, but it takes a sh*tload of time and money, right?, Well, listen up 'cause Laura Miller's here to help, not to push any agenda or pressure you to be perfect. This book is for every day, budget-minded people looking to mix-up they're played out kitchen routines. Laura shows you can be a normal, funny ass person who just happens to eat and cook like a f*cking boss." ―Michelle and Matt, authors of Thug Kitchen
"Raw. Vegan. Not Gross. This is my go-to feel-good cookbook. Laura's handle on the raw food movement is intuitive and effortless. In just one book she'll teach you just how easy and craveable clean eating can be." ―Erin McKenna, author of BabyCakes
"I'm so obsessed with this human. Laura is a brilliant chef, my hangover guru, and an all-around superwoman whose book is a kaleidoscope of food, feelings, and funny. I want to eat everything in it!" ―Meghan Trainor
Raw. Vegan, on Youtube making a Vegan Birthday cake... 
Talking of cake, (brain went BING)... Reminder alert... Check out our 10 Fabulous Vegan and Gluten-Free Cake Recipes You Need to Try Now.
Those on the Path to Healing
The Oh She Glows Cookbook: Over 100 Vegan Recipes to Glow from the Inside Out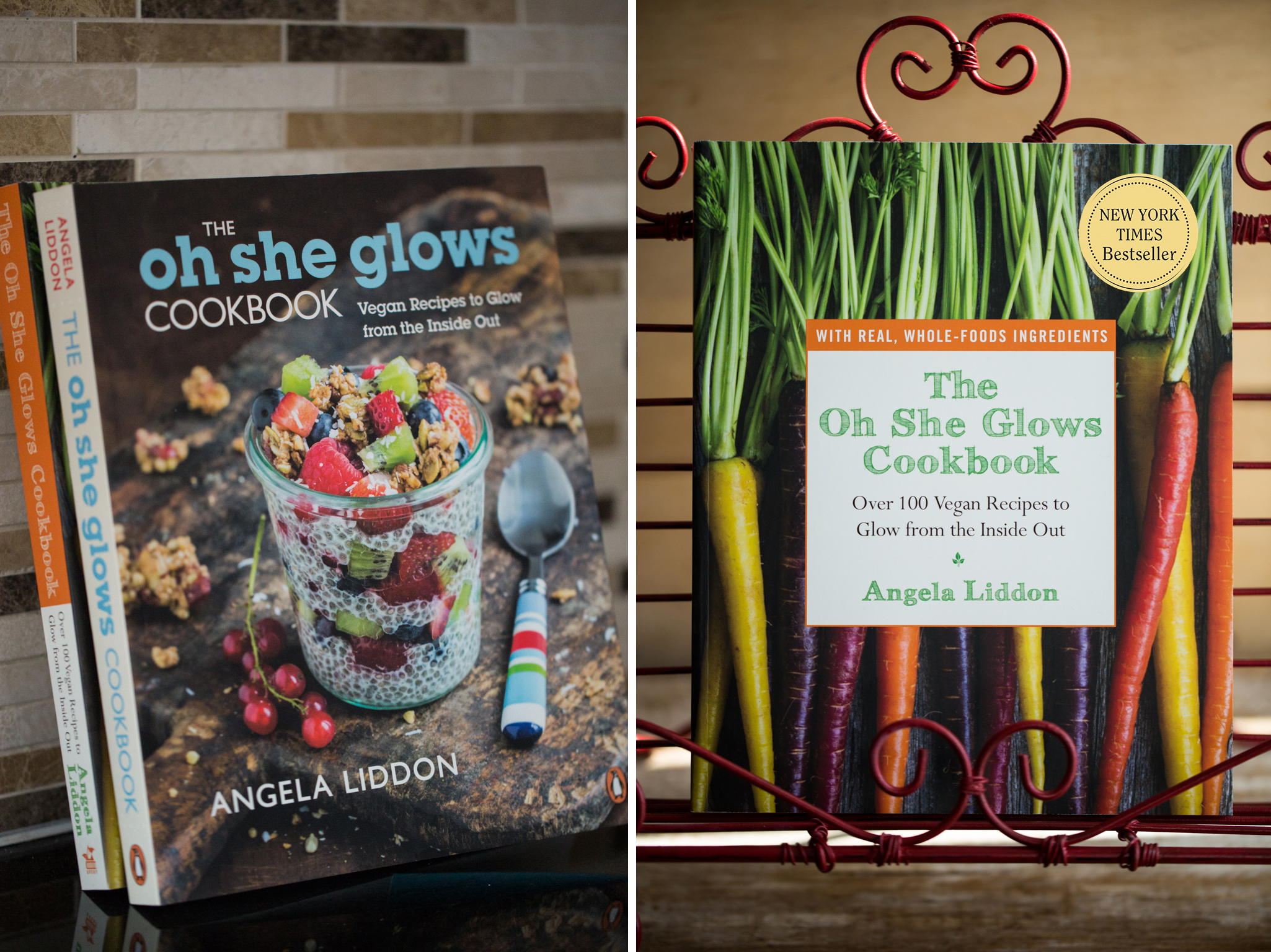 Google Play: https://play.google.com/store/books/details/Angela_Liddon_Oh_She_Glows
Direct: https://ohsheglows.com/the-book/
Angela Liddon is a plant-powered goddess who openly shares how her choice to go on whole foods, plant-based diet helped cure her grapple with a decade-long eating disorder. The most popular blog on the web, she has a plant-based foodie audience that stretches worldwide. Fan favourites include her sweet potato, chickpea, and spinach coconut curry. Mmm, mm, good.
Check out what people said:
"One of Chatelaine's Women of the Year. Angela's passion for healthy vegan food is contagious, and she's eager to show others that vegans (and often gluten-free) food can blow your taste buds away."—Chatelaine
"The Oh She Glows Cookbook is nothing short of a revelation. A brilliant collection of accessible and vibrant vegan recipes."—Kathryne Taylor, creator of the popular blog Cookie and Kate
"Angela's recipes are an inspiring reminder that there are no limits to vegan cooking."—David Frenkiel and Luise Vindahl, authors of Vegetarian Everyday and the creators of the award-winning blog Green Kitchen Stories
Those on a Budget
Frugal Vegan: Affordable, Easy & Delicious Vegan Cooking
Amazon UK: https://www.amazon.co.uk/Frugal-Vegan-Affordable-Delicious-Cooking-ebook/dp/B01MQ3O7DK
Amazon USA: https://www.amazon.com/Frugal-Vegan-Affordable-Delicious-Cooking-ebook/dp/B01MQ3O7DK
The kid in college? Friend or family member trying to save?
Authors Katie Koteen and Kate Kasbee do a great job of whipping up fun, never dull, delights with easy to find ingredients that won't burn a hole in your wallet. Recipes like beer battered avocado and black bean tacos with chipotle slaw or gooey mushroom quesadillas should do the trick!
What readers said:
"Frugal Vegan is a cookbook that proves that vegan cooking does not have to be expensive or complicated. This is a plant-based cookbook that will fit your life and your budget!" ―Kathy Patalsky, author of Healthy, Happy Vegan Kitchen and creator of the blog Healthy Happy Life
"Kate and Katie's food is vibrant, fun and most importantly, accessible. Frugal Vegan is a book for every cook who dreams of a world where healthy, practical foods also happen to be delicious." ―Matthew Kenney, chef and author of Everyday Raw
"Frugal Vegan offers an incredible array of fresh and simple vegan recipes. Every single one of them manages to be easy to make, affordable and accessible, too." ―Kathryne Taylor, author of Love Real Food and creator of the blog Cookie and Kate
Time to Get Shopping!
This guide of 7 different kinds of vegans gives you great insight into figuring out what to buy for yourself or someone else. They are all GREAT for becoming, trying, or maintaining to be an awesome, plant-powered superhuman.
So get clickin'! Buy 'em while they're hot before you miss out!
What's your ideal cookbook for the upcoming season?
Do you own any of them?
Are you writing one?
Could you share with us by commenting below? :)
Take a picture of the vegan cookbooks you'll be using this holiday season and tag us on Instagram @vegan_cheese_shop for a chance to be featured on our page!
| | |
| --- | --- |
| |  About the Author |
| | Hello! My name is Rebecca, and I am a lifelong foodie. Now, VEGAN foodie, aiming to provide the best, most fun advice I can on all things plant-based. Join me on a quest always to bring you the best. Always vegan and always food related. Cheers.  My Instagram & My Blog |