Today we are focusing our effort on the humble breakfast... And we're going to make it fun with some amazing Vegan Breakfast Ideas. Learn more below:
Blogger face-off? What does that even mean?
Something new, people. Something fun!
Anybody like competition?
Because I do!
I decided to make a blog post contest of the top 5 vegan breakfast ideas to see who, out of our top vegan bloggers, makes the cut. Like my own little Iron Chef competition...Or Iron Blogger competition...If you will. Whoever wins, definitely means they should be recognised by you! Who knows what else they might have up their sleeve creatively?
I used always to think I wasn't competitive because I grew up hating sports.
Everyone in my family had some interest in them, but me.
Cheerleading? No.
Basketball? No.
Volleyball? Certainly NO.
I especially hated completing the annual physical fitness test in my physical education class because I DREADED running the mile with my classmates.
Ironic, isn't it?
Because now I run half marathons.
At my own accord. No one forced me. I did this all by myself.
ANYWHO, reflecting on my anti-sweat days, I've realised I was, in fact quite competitive. But not in the way you might think. I was in it to win it when auditioning for my school's and summer camp's annual plays and musicals. There it is!
That same competitive edge got me to pushing through tricky classes in high school and getting into the University of my dreams! Which lead me to live in the place of my dreams and so on.
So yeah. Whoever said a little healthy competition was a bad thing?
With that being said, I've taken the liberty of ranking the following top 5 vegan breakfast ideas and score based on Simplicity, Healthiness, and Creativity.
To only give you the BEST, highest quality recipe to try for yourself. And then, of course, take a picture and tag us + the winner on Instagram US BEING @vegan_cheese_shop because you know the drill. As we are getting closer and closer to Christmas if you need some ideas, check out of vegan cookbook post.
Let's get started.
COMPETITION

 

1 - VEGAN BREAKFAST BURRITOS
We've got 2 bloggers in this competition for the best vegan breakfast burrito category!
Rates on a scale of 1 (being the lowest) and 10 (being the highest).
Duelling Blogs: Veggies Don't Bite Vs Running on Real Food
Recipe 1. 30 Minute Vegan Breakfast Burritos
Recipe link: https://www.veggiesdontbite.com/30-minute-vegan-breakfast-burritos-minimalist-baker-everyday-cooking/
Recipe 2. Healthy Vegan Breakfast Burritos
Recipe link: https://runningonrealfood.com/healthy-vegan-breakfast-burritos/
ANALYSIS:
Veggies Don't Bite: Containing 4 parts, this easy vegan breakfast only requires 15 minutes of prep time and 15 minutes of cook time. Meaning it takes just 30 minutes to whip up some savoury breakfast magic in the kitchen! With lime and white cilantro rice for freshness, hash browns and onions for a savoury touch, black beans for protein, and avocado slaw as your added crunch and healthy fat, this healthy breakfast is packed full of all the necessary micronutrients and flavour to keep you feeling full and satisfied. Points?
SIMPLICITY: 8
HEALTHINESS: 10
CREATIVITY: 6
(modified from the Minimalist Baker's recipe in which she promotes in her post. Minimalist Baker uses other things like sauteed red pepper and kale and a tofu scramble meant to mimic scrambled eggs).
Running on Real Food: Containing just tofu scramble and toppings, the easiness factor on this recipe flies off the charts! Containing more nutrient dense veggies than the first recipe, the health factor on this recipe is booming as well. Creativity-wise? Well, considering you can eat the tofu scramble minus the burrito and with a side of toast or veggie bacon instead, or on a bagel with a slice of melted Violife Original Flavour Vegan Cheese, I'd say that this makes it an all-around winner!
SIMPLICITY: 10
HEALTHINESS: 10
CREATIVITY: 10
WINNER: Running on Real Food's Healthy Vegan Breakfast Burritos
Instagram: @runningonrealfood
COMPETITION 2 - VEGAN FRENCH TOAST
Duelling Blogs: BBC Goodfood Vs Love & Lemons
 Recipe 1.  Vegan cinnamon and blueberry French toast
Recipe link: https://www.bbcgoodfood.com/recipes/cinnamon-blueberry-french-toast
Recipe 2. Vegan French Toast
Recipe link: https://www.loveandlemons.com/vegan-french-toast/
ANALYSIS:
BBC Goodfood: 20 minutes to make? Sweet? Thick? Claimed to be indulgent and perfect for brunch? I'm IN!!! With just 11 delicious ingredients, health gets thrown out the window for this recipe, and the sweet satisfaction takes its place. This recipe can easily be made more versatile as a gluten-free bread option can be used in place of the thick white bread they use in this recipe, and any other fruit can be used as a sauce option to boil with your maple syrup if you're not a fan of the blueberries. If it were me, I'd probably use strawberries.
SIMPLICITY: 10
HEALTHINESS: 5
CREATIVITY: 9
Love & Lemons: 15 minutes to make? And a ciabatta bread base? Oh my...This sounds...Perfect. With a little pinch of nutritional yeast and topped with fresh fruit, this breakfast slides in some essential B-12 Vitamins (that all us vegans need).  It does have a bit more added sugar and fat than the above recipe does, but sounds SO GOOD, regardless. Besides, French toast isn't necessarily meant to be healthy...Right?
SIMPLICITY: 9
HEALTHINESS: 3
CREATIVITY: 10
WINNER: BBC Goodfood's Cinnamon and blueberry French toast
(With Love & Lemon's Vegan French Toast coming in as a VERY CLOSE SECOND!)
Instagram: @bbcgoodfood
COMPETITION

 

3 - VEGAN SCRAMBLED EGGS
Duelling Blogs: Blissful Basil Vs Cheftographer
Recipe 1. Vegan Scrambled "Eggs" Made With Aquafaba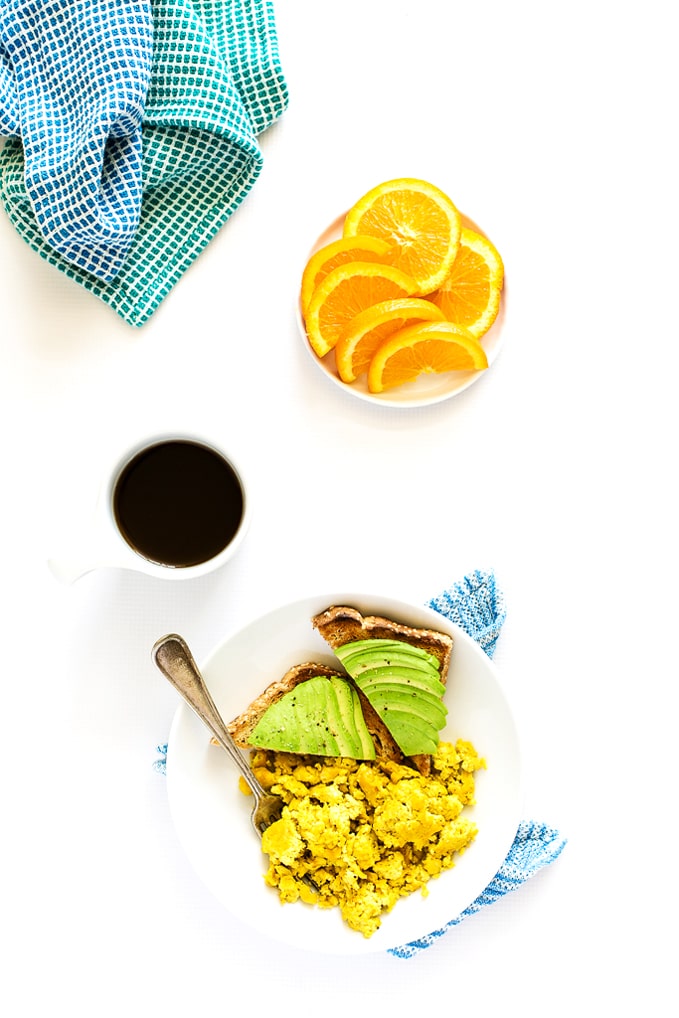 Recipe link: https://www.blissfulbasil.com/vegan-scrambled-eggs-made-with-aquafaba/
Recipe 2. Vegan Breakfast Eggs
Recipe link: http://www.cheftographer.com/vegan-breakfast-eggs/
ANALYSIS:
Blissful Basil: 20 minutes to cook takes the lead. Nutritional yeast scores points for health. Black salt scores for creativity. And then turmeric? Double score on behalf of both health and creativity! Add a little grated Violife Mild Prosciano Wedge.
(Because of the flavours to this scream fancy at me!) Moreover, you've got yourself a definite winner.
SIMPLICITY: 10
HEALTHINESS: 10
CREATIVITY: 7
Cheftographer: Vegan breakfast EGGS. Is what the title says. So points there for beginner vegans trying for that transition, am I right? With turmeric, and black pepper, that ties the two competing blogs. Add both onion and garlic powder, to this one, however, and you've got a TOTAL GAME CHANGER. Melt some Violife Mature Vegan Grated Cheese on that and get ready for a genuinely scrumptious bite!
SIMPLICITY: 10
HEALTHINESS: 10
CREATIVITY: 8
WINNER: Cheftographer's Vegan Breakfast Eggs because added spice is everything and catering to transitioning vegans with a title like that adds a level of comfort the term "aquafaba" unfortunately doesn't.
Instagram: @thecheftographer
Extra - How to make Aquafaba.
COMPETITION

 

4 - CHIA PUDDING
Duelling Blogs: Amy Gorim Nutrition Vs The Simple Veganista
Recipe 1. 
Pomegranate and Pistachio Chia Breakfast Pudding
Recipe link: https://www.amydgorin.com/pomegranate-pistachio-chia-breakfast-pudding/
Recipe 2. Vanilla Chia Pudding Recipe
Recipe link: https://simple-veganista.com/2015/02/vanilla-chia-pudding.html
ANALYSIS:
Amy Gorim Nutrition: If "Pomegranate Pistachio Chia Breakfast Pudding" doesn't sound fancy, nutritious, and fabulous AF, then I don't know what does! NOTE: This recipe is originally a vegetarian recipe HOWEVER, you can easily sub out the low-fat milk for another, dairy-free plant milk alternative such as almond milk. Pomegranate seeds (arils) and pistachios, this Chia pudding get a burst of added nutrition, and the flavour combination stands out amongst the rest I've seen. With a (setting time since Chia seed pudding is not something that needs to be baked) about 20 minutes to overnight, you can have this yoghurt alternative in the morning OR as a snack any time you like.
SIMPLICITY: 10
HEALTHINESS: 10
CREATIVITY: 10
The Simple Veganista: Vanilla Chia Pudding. Ah. More simple. More classic. With Just 4 ingredients (as opposed to the 5 used above...Lol not that big of a difference) this recipe speaks more to the familiar and sweet. The Simple Veganista also gives alternative options to the flavourings of vanilla and sweetener that can switch this recipe from simple to fancy overnight!
SIMPLICITY: 10
HEALTHINESS: 10
CREATIVITY: 9
WINNER: Amy Gorin Nutritions' Pomegranate and Pistachio Chia Breakfast Pudding by just 1 measly point. Good game, bloggers!
Instagram: @amydgorin
COMPETITION 5 - VEGAN PANCAKES
The final battle is between sweet and savoury breakfast recipes.
Duelling Blogs: Oh She Glows Vs Vegan Huggs
Recipe 1. Strawberry Shortcake Stacked Pancakes
Recipe link: https://ohsheglows.com/2011/03/20/strawberry-shortcake-stacked-pancakes/
Recipe 2. Vegan Savoury Pancakes with Cheddar and Green Onion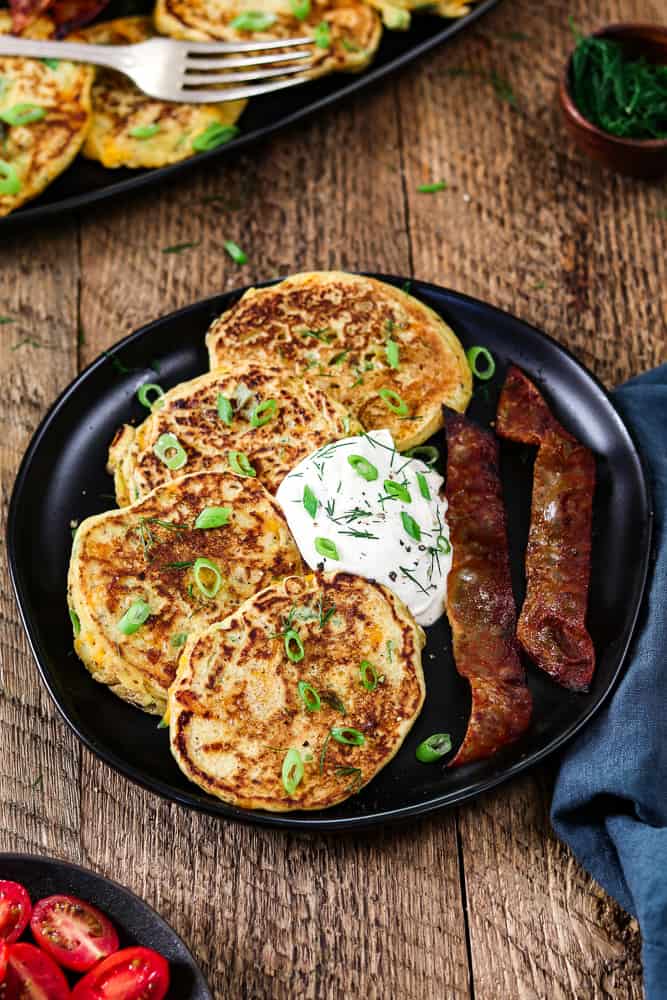 Recipe link: https://veganhuggs.com/savory-pancakes/
ANALYSIS:
Oh, She Glows: Creativity is at an all-time high with this strawberry shortcake pancake idea. I mean, what even? Who comes up with that?
I guess Oh She Glows does and DAMN does it sound divine! Bonus points for this blog post linking to some of her other fabulous pancake recipes too, i.e. Maple, PB, and Jam + Blueberry Carob + Maple Cinnamon Almond + so so so much more.
Can she come to my house and make this for me... like, now? Ha-ha.
This is an IDEAL brunch recipe, on the real. NOTE: although this recipe requires quite a few ingredients, they're not absurdly fancy and difficult to find and the cook time isn't exactly included, but when did pancakes ever take longer than necessary to make?
SIMPLICITY: 7
HEALTHINESS: 8
CREATIVITY: 10
Vegan Huggs: Cheesy. Vegan. Savoury. Pancakes? Wow, throw all those words together, and you've got a mouth full of DROOL. Let's check if the rest of this competitor is well-rounded in comparison to our Oh She Glows counterpart. 30 minutes to make. Lots of ingredients as well. But with the option to add your fave non-dairy vegan cheese, I don't see why a few handfuls of Violife's Mature Vegan Grated Cheese.
Wouldn't work well! Top with scallions and a dollop of vegan sour cream (she has a link to her very own recipe), this yummalicious stack pairs well with a side of your favourite veggie bacon.
Oh wow. I think my stomach just growled.
SIMPLICITY: 7
HEALTHINESS: 8
CREATIVITY: 10
WINNER: IT'S-A TIE!!!!
Actually tho! I couldn't decide. The perfect balance between savoury and sweet, why not make both and have a brunch party that will be sure to blow everyone's socks off.
Instagrams: @ohsheglows, @veganhuggs
Hope You Enjoyed This Little Contest!
Even though it was competitive, all these recipes are shining stars.
I think my favourite recipe was the two pancakes: both savoury and sweet. I'm just a sucker for round, fluffy cakes you can eat for breakfast!
What did you think of this post?
Like this blog post?
Agree or disagree with my scoring system?
Have more recipe ideas to share or bloggers to scope out?
Let us know in the comments below!
Tell us what your favourite recipe was by making it (yes), taking a picture of it, and uploading it to Instagram! Tag @vegan_cheese_shop and the corresponding blogger for a chance to be featured on our page. And of course, if you ever use any of our Violife products, be sure to upload a picture and tag us anyway! Like and share to our Vegan Cheese Recipe club on Facebook for a great chance to connect with other plant-powered humans on your recipes and others. Swap ideas, converse about random vegan, allergen-free topics, and more!
The vegan community is growing bigger and bigger every day!
All inclusive, where everyone belongs.
Join our community and see for yourself today. :)
| | |
| --- | --- |
| |  About the Author |
| | Hello! My name is Rebecca, and I am a lifelong foodie. Now, VEGAN foodie, aiming to provide the best, most fun advice I can on all things plant-based. Join me on a quest always to bring you the best. Always vegan and always food related. Cheers. My Instagram & My Blog |