This post is all about vegan brownies, so sit back, relax and enjoy the read.
Decadent, rich, fudgy, crispy, fluffy, indulgent little squares of chocolate.
Wow, bet you didn't even realise there were all sorts of ways to describe these marvellous small slices of heaven, did ya? ;) 
I hold chocolate brownies VERY near and dear to my heart. Well, chocolate in general, BUT brownies, especially because growing up, it was a household tradition.
Now, mind you I wasn't vegan then.
SO that tradition started as me and my sister riding in the car with our father to the local grocery store where we would make a POINT to buy a box of Ghirardelli brownies (the fudgiest, chocolatiest they were selling at the time, mind you... So that usually ended up being like a triple chocolate box of brownie mix). Anywho, we would make a point of buying this ultra-rich brownie mix ESPECIALLY if it were a Friday or Saturday night. We knew that watching a movie at home later that night was pencilled in the books.
As we got older (like when I was coming home to visit from the University) it would be my sister and me driving to the store about 10 minutes before close. Then indulging in a batch around 1 am, our father would usually crawl out from his room and steal a few nibbles too.
Now, our younger brother (who turned 11) is in onto the tradition, and every time I visit home, it's something we do. Quite the cute little family activity that's super simple, fun when spent with those you love and the results are always BEYOND rewarding. SIDE NOTE: baking brownies are also fun to do at sleepovers with your friends... You KNOW I was that one friend in elementary school who always made sure we checked that off the list for fun things to do for the night.
But does it mean we have to skip facials for this, Rebecca?
Yes. Yes, it does, Sarah.
And I don't think we've ever quite messed up a batch of brownies once, to be honest.
Now that I'm vegan, I've done all the research and know that brownies are, in fact, not naturally vegan. HOWEVER, they can be. Very, very easily.
In this post, I decided to share my vegan brownie wisdom to help create the dessert of your dreams that is allergen-friendly, plant-based. And maybe even start a new tradition for ya! Let's take a look.
THE ANATOMY OF A BROWNIE
LOL. But yes, I'm quite serious here. Baking itself, after all, is a science.
What do you think your chemistry class was for?
Cooking.
And although chemicals aren't edible and technically SHOULD NEVER BE (@processed food...Sorry, not sorry for THAT shade #wheepsforGhiradelli), everything you know about ovens and combining certain flours with powders and the like to make a substantial product stems from that Sciency subject. SO. Let's take a look.
What do brownies consist of?
Sugar
Eggs
Cocoa powder
Flour
Butter or Oil
Certainly not vegan. Minus the sugar-cocoa powder, and flour of course. But even so, we can all make some conscious choices to also sub those ingredients out for even better, more nutritious options. Maybe even gluten-free? That way, literally anyone could have a brownie since he or she would be wholly allergen-friendly AND you wouldn't have to feel bad, like, at all about having your healthier indulgence.
VEGAN BROWNIE INGREDIENT SUBSTITUTES
Since not all the above ingredients are vegan, here are some bomb alternatives!
EGG-- your binder. Most popularly, flax eggs are used.
Flax egg (MOST POPULAR): 1 tbsp. GROUND flaxseed + 1.5 tbsp. Warm Stir to combine in a small bowl or cup or whatever, and it will form an egg-like consistency! Super neat stuff. Like...Vegan egg magic ha-ha! How to make Flax eggs? 
Chia Seeds: follow the same procedure as the flax eggs above.
Baking Soda + apple cider vinegar! Unexpected, but I tried it, and it works. Combine 1 tsp of each and let it sit for a minute or two to allow it to coagulate into that egg-like texture.
Silken tofu: ¼ cup will do the trick!
Mashed banana: 1 medium sized banana is perfect.
Unsweetened applesauce: Brilliant. I've used this as an egg replacer before, and it worked wonders! Applesauce is a more common pantry staple to have on hand as well. (Especially if you have kids!) So this might be the egg-replacer winner.
BUTTER OR OIL-- what adds moisture. Also can be the difference between cakey (when you use butter) or fudgey (when you use oil).
Mashed avocado (butter alternative): a healthier fat. Maybe the healthiest! Avocados are great for retaining cake-like moisture; They also contain loads of vitamins that provide many beneficial properties for your heart and brain! Use the same amount as however much butter is being called for and voila!
Applesauce (butter alternative): Just as good as it is for eggs, applesauce is excellent as a butter substitute as well! Wow, applesauce is fantastic all around, isn't it? Use half the amount called for in the recipe. Works excellent in cookies, cakes, and banana bread. SIDE NOTE: I have not tried using applesauce for both the egg and butter replacement in a single baking recipe before, so if you do, let me know how it goes in the comments below! My theory is the finished product might lean more on the apple flavour. But like I said I have no idea!
Olive oil or grapeseed oil (vegetable or canola oil alternative): Olive oil is great as an oil substitute because it contains high amounts of heart protectant and anti-inflammatory properties. Grapeseed oil contains high levels of Vitamin E which carries loads of antioxidants that help fight chronic illnesses like heart disease and cancer. Both olive and grapeseed oils have also been proven to do wonders for the hair, skin, and nails when consumed.
SUGAR-- sugar is sugar, right? Not necessarily. These purer versions, while still should be consumed in moderation, are a little less bad for you and actually contain bolder flavours that can richen up the flavour of those brownies too.
Coconut sugar: AKA coconut palm extract. This wonder sweetener contains fibre and other nutrients like potassium and iron which give you a little extra when you indulge on your sweet tooth craving.
Maple Syrup: AKA cooked tree sap. A great alternative to sugar with a lower glycemic index that won't spike your blood sugar as much!
Molasses: AKA boiled sugar cane. Containing a hefty amount of antioxidants, it's also quite high in potassium and calcium, which is proven to promote both heart and bone health.
COCOA POWDER--  great as is...But if you want to give your brownies ULTIMATE richness?
Cacao Powder: If you blink, it looks like the two are spelt the same, but they are SO different. Cacao powder is made from cold pressing un-roasted cacao beans while cocoa powder is made from roasting raw cocoa at very high temperatures. Cacao powder is darker in colour and bolder + richer in flavour. When I first discovered cacao powder, I knew I was never going back. I use it in vegan breakfasts like porridge and pancakes all the time to give them a rich chocolatey boost!
FLOUR-- whole wheat and sprouted grain flours work wonders. But what if you're gluten-free?
THE MAGIC INGREDIENT - BLACK BEANS
Not all brownie recipes contain it, but those that do are absolute fire! The first time I ever tried black beans in a baked good was when making some delicious vegan double chocolate cookies. This protein-packed legume slides a little extra nutritional value into your dessert and retains moisture like a friggin' champ! So, yes, this is another butter alternative technically, but it is definitely more unheard of to most people. Don't knock it 'till you try it! And when you do, comment below! Let's see what you think.
NOW PRESENTATION...
Is an absolute key. If you're bringing a fresh plate of vegan brownies to an event and even more so if you're posting a picture to Instagram. HAHA. For me, the presentation is ALWAYS key as it has a direct correlation with the taste of my food and that's the foodie in me, but I'M NO ASHAMED, it's the make or break between a good and a bad meal for me! :D
HOW TO MAKE A CLEAN SLICE-- Cutting your brownies is very important. Too often, I've been impatient with the suggested amount of time it takes to cool these suckers and have sliced right through them, eager to take a bite. Unfortunately, they crumble and break off and are plain ugly. They taste great! But are a horrible sight to see and are near impossible to make it look like a decent slice of brownie again.
The trick to making a clean slice, my friends, is simple.
When your brownies are done cooking (and sitting on top of parchment paper in the pan), take them out of the oven and allow them to cool in the pan for about 15 minutes. Remove the brownies with the parchment still intact and will enable them to cool for another 15 minutes.
Run a sharp knife under hot water, dry, and slice away. Your brownies will become the most aesthetically pleasing little squares to date!
ICE CREAM TOPPER-- If you're going the ultimate indulgent dessert route, a brownie sundae is the way to go. Top your brownie with a scoop of your favourite vegan ice cream (I would opt for vanilla) and your dessert will be practically picture perfect!
Image source: https://www.olivemagazine.com/recipes/baking-and-desserts/classic-chocolate-brownies/
Practically….
THE DRIZZLE-- ...Because you need to top that sucker off with a drizzle of your favourite dessert sauce. Strawberry? Caramel? More chocolate? The world is your oyster. Be sure to make it vegan!
SOME RECIPES
Now, you didn't think I'd write all that without providing you with some of the internet's BEST vegan brownie recipes, did ya? I've carefully compiled a list of 5 drool-worthy recipes with some modification suggestions!
1. Best Ever Vegan Brownies by Nora Cooks
Recipe Source: http://www.noracooks.com/vegan-brownies-recipe/
You can't go wrong with a classic brownie recipe! Blogger Nora of Nora Cooks uses a flax egg here and opts for a vegan butter alternative as opposed to the regular stuff. I dare you to use some of my above vegan baking substitutes in this recipe and comment below on what worked and what didn't work for you!
2. Flourless Tahini Brownies by Making Thyme for Health
Recipe Source: http://makingthymeforhealth.com/flourless-vegan-tahini-brownies/
Described as chewy, fudge, AND allergen-friendly, these brownies step up the chef game. They use a flax egg and maple syrup and coconut sugar as a sweetener, cornstarch in place of flour, vegan chocolate chips, and TAHINI. An added adjustment to a recipe that initially called for almond butter. Now this recipe isn't just dairy-free and gluten-free, but nut free as well! Genius.
3. Deliciously Simple Vegan Brownies by Loving it Vegan
Recipe Source: https://lovingitvegan.com/simple-vegan-brownies/
Now, this vegan brownie recipe REALLY changes up the name of the game. With no added chocolate chips for a melted chocolate finish, Alison of Loving it Vegan opts for 1 tbsp of instant coffee powder to be mixed within the luscious batter for a genuinely decadent bite. And it doesn't stop there. She topped this slice of heaven with a hardy scoop of vegan vanilla ice cream and melted vegan chocolate.
Regarding the presentation? Um, yeah. This girl gets an A+! For a gluten-free, higher nutrient content alternative, refer to my vegan brownie ingredients substitutes listed above.
4. Black Bean Brownies - No Flour Required!  by Chocolate Covered Katie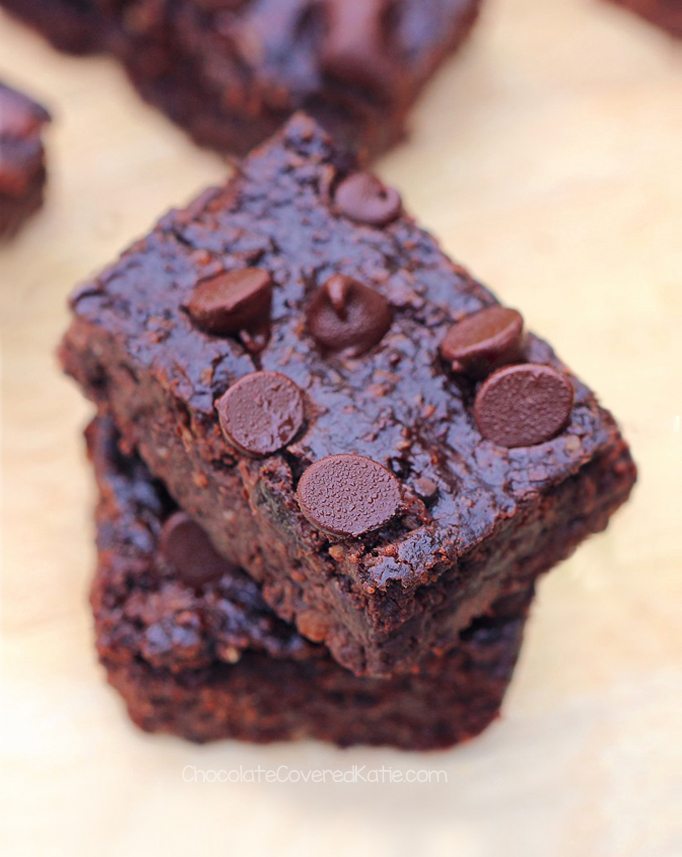 Recipe Source: https://chocolatecoveredkatie.com/2012/09/06/no-flour-black-bean-brownies/
The vegan baking queen, Chocolate Covered Katie comes through with this marvellously healthy batch of brownie goodness-- that does NOT taste healthy! She claims that even her non-vegan friends loved them and ate up the first batch in record time! The only ingredient in this recipe that is sometimes not gluten-free is the baking powder. However, there are many gluten-free versions available (such as Bob's Red Mill brand) in most grocery stores. MORE ON CHOCOLATE COVERED KATIE: Did you know her blog is one of the top 30 blogs (in general) on the internet? And her most popular recipe is THESE brownies. Sooooo yeah, you should try to make them...And you should double the recipe, too. She also does fun alternative versions like zucchini brownies and sweet potato brownies!
5. Simple Vegan Brownies by Minimalist Baker
Recipe Source: https://minimalistbaker.com/simple-vegan-brownies/
This recipe utilises Dutch cocoa powder and offers topping ideas beyond the chocolate chip...Like hazelnuts and walnuts! WOW. Decadent as ever. Dutch cocoa powder gives off a milder flavour from regular cocoa powder, so the addition of those bold nuts as a topper adds the perfect balance to these circular baked brownies. And isn't that a fun idea. Brownies are not limited to being just squares, you know. In fact, a fun party idea? Allow your brownies to be cooled completely. Instead of using a sharp knife and running it under water to cut these cleanly as suggested above, use different shaped cookie cutters.
THAT'S ALL FOLKS
I hope that your tummies are grumbling, sweet tooths are activated, and that you're having thoughts of making a grocery run to buy the required ingredients for your favourite brownie recipe! Or maybe you already have the ingredients on hand! That's why I love easy and convenient recipes like the ones listed above.
Whatever it is, be sure to bake it. Take a picture of it. Upload it to Instagram and tag @vegan_cheese_shop + the blogger whose recipe is is for a chance to be featured on our page!
I love how in vegan baking, you can easily add so much more nutrition to a recipe that is otherwise pretty bad for your health. These ingredients not only nourish you but provide the satiety needed to be full long enough not to crave or overeat more than you should. Well, usually. Even if you do, at least its way better for you!
...I tell myself as I reach out for my third brownie of the night...They taste...So…. Dang…. Good!
What was your favourite part of this post? Let us know in the comments below! Additionally, like our Vegan Cheese Recipe Club on Facebook for the inside scoop on all things vegan cheese related. And even a little chocolate now and then too.
So get to baking those brownies! Take a bite and tell us what you think.
And of course, always remember to wash it down with a cold glass of almond milk (or any other plant milk alternative). ;)
| | |
| --- | --- |
| |  About the Author |
| | Hello! My name is Rebecca, and I am a lifelong foodie. Now, VEGAN foodie, aiming to provide the best, most fun advice I can on all things plant-based. Join me on a quest always to bring you the best. Always vegan and always food related. Cheers. My Instagram & My Blog |