LET THEM EAT CAKE!!!
Your vegan friends at a vegan celebratory get-together that is.
Or maybe you just want to bake one for yourself because you're awesome and you deserve it.
Really. Go for it.
I'm not stopping you.
I'm a massive lover of sponge cake.
Who isn't? Duh.
My favourites are either all chocolate, red velvet (which is also technically chocolate), chocolate cheesecake with peanut butter frosting (see a trend?), vanilla with lavender buttercream frosting, and coffee cake with a cup of coffee.
Yum.
All vegan, of course.
I just realised I have yet to have a vegan cake for anyone of my birthday's...
I'll have to make the fam get on that. I've only been vegan for one birthday so far anyways!
Haha, all is well.
This year will be my vegan birthday cake year! I've declared it.
Cake.
Delicious.
Comforting.
Like your grandmother used to make?
I have fond memories of a woman by the name of Denise custom making each moist cake for my every birthday, holiday party, and graduation celebration!
There was vanilla with toffee filling, chocolate with pudding as a filling, and the thickest, most decadent frosting.
Too rich for some, but absolutely perfect for me!
Since becoming vegan, I've made a multitude of baked goods using vegan bake substitutions for common ingredients (see second list below for a guide) and since my mother became gluten-free, we've found loads of flour substitutions for her (see first list below for a guide).
But with so many vegan cake recipes out there…
Where to start? And What to make?
The following is a list of 10 fabulous vegan AND gluten-free cake recipes that give you variety on taste, presentation, and might even inspire you to make your own!
BEFORE YOU READ; Gluten-Free Substitutions: Not all the following recipes are gluten-free.
However, you can make them so by subbing out common baking ingredients like all-purpose flour with any of the ingredients you see on this list below.
Make sure that you invest in gluten-free baking powders and baking sodas as well. Bob's Red Mill brand has excellent products for gluten-free baking. https://www.bobsredmill.com/shop/flours-and-meals.html
See below for:
The most common gluten-free flour baking swap-outs:
Buckwheat flour (yes, it's gluten-free despite the word wheat in its name)
Coconut flour
Chickpea flour
Quinoa flour
Almond flour
Sorghum flour
Rice flour
Tapioca flour (starch)
Potato starch
Xanthan gum/Guar gum
Have a Cake Recipe That Isn't Vegan?
Have no fear, the dairy and egg substitutes are here!
See below:
Vegan Egg Substitutes: ground flax meal and water, chia seeds and water, applesauce, mashed banana, arrowroot powder, baking soda and vinegar, silken tofu
Vegan Milk Substitutes: soy milk, almond milk, cashew milk, coconut milk, flax milk, oat milk, rice milk
Vegan Butter Substitutes: avocados, applesauce and other fruit purees, pumpkin puree, coconut oil, other cooking or baking oils, and multitudes of vegan butter brands such as Becel, Biona Organics, Flora Freedom, Nuvel, Pure, Rakusens, Suma Spreads, Vitalite, Alfa One, Nutelex, and Olivani.
Necessary Kitchen Tools
No baker's kitchen is complete without a list of these essentials for doing premium work in the kitchen:
Mixing Bowl: Need I say more? You will usually need one bowl for wet ingredients and one bowl for dry ingredients, but some of the recipes below are so easy that you only need 1!
Measuring Cups: Gotta get those dry and wet ingredient ratios on point! Many recipes allow for some wiggle room with measurements, but cake baking needs to be specific.
Cake Pans: Gotta bake that cake in somethin'!
Parchment Paper: Cut and place at the bottom of your cake pan to avoid sticking and allow easy cake release post-cooking.
Cooling Rack: Helps the cake cool thoroughly before you apply your frosting.
Electric Whisk: For making your homemade frosting of choice!
Sharp Knife: Use for making your cake release post-cooking even easier! Simply draw the blade along the edges your cake inside the cake pan and turn it over to release your cake.
Cake Boards: Gives a sturdiness to cakes that help them not lose their form. Not necessary, but something to look into if you're an avid baker!
Off-Set Spatula and Bench Scraper: Use the off-set spatula to coat your cake seamlessly from top to bottom. Use the bench scraper to make that frosted beauty perfectly smooth.
Turntable: Because its fun.
Onto Those Cakes
1. 1-Bowl Vegan Gluten-Free Vanilla Cake by Minimalist Baker
Recipe Source: https://minimalistbaker.com/1-bowl-vegan-gluten-free-vanilla-cake/
Let's start simple, shall we?
This 1-Bowl Vegan Gluten-Free Vanilla Cake by Minimalist Baker only requires 10 ingredients and has raving reviews in the vegan blogging universe.
With options to use either coconut whipped cream or a classic vegan buttercream frosting on top, this cake is great for holiday and special occasion get-togethers! Add some extra pizzaz by throwing a handful of fresh rinsed berries on top.
NOTE: Makes excellent cupcakes!
2. Vegan Chocolate Cake with Chocolate Peanut Butter Ganache by Vegan Richa (Not Gluten-Free, but it can be!)
Recipe Source: https://www.veganricha.com/2016/02/vegan-chocolate-cake-with-chocolate-peanut-butter-ganache.html
I'm gonna come out and say it: chocolate and peanut butter is my FAVOURITE flavour combination maybe ever so this recipe is definitely my #1. Recipe developer Richa Hingle recommends making this specialty for Valentine's Day-- as this cake's naturally dark/intense and passionate flavour combination suggests. Better yet? Slather on some raspberry, blackberry, or apricot preserves in between the layers for a little extra cake seduction.
GLUTEN-FREE NOTE: See gluten-free swap-outs list above for your all-purpose flour and unbleached all-purpose flour alternatives.
Also be sure to use gluten-free baking powder and gluten-free baking soda.
3. Vegan Gluten-Free Funfetti Birthday Cake by The Vegan 8
Recipe Source: http://thevegan8.com/2016/07/28/vegan-gluten-free-funfetti-birthday-cake/
Perfect for kids parties, this tender, moist, and fluffy deliciousness only requires 8 ingredients for the cake and just 6 ingredients for the frosting!
It's easy, it's tasty, it's aesthetically pleasing, vegan, gluten-free, and kid tested/approved!
What's not to love?
4. Gluten-Free Vegan Red Velvet Cake by Rhian's Recipes
Recipe Source: https://www.rhiansrecipes.com/gluten-free-vegan-red-velvet-cake/
This indulgent cake, made with no refined sugar or food colouring, is the perfect alternative to this classic, rich treat. Rhian uses maple syrup as a sweetener and beetroot powder instead of food colouring and proves you can whip up this delight in about 35 minutes! Talk about impressive.
5. Vegan Gluten-Free Dairy-Free Carrot Cake by Food Faith Fitness
Recipe Source: https://www.foodfaithfitness.com/vegan-gluten-free-dairy-free-carrot-cake/
Ideal for an Easter celebration, Taylor of Food Faith and Fitness praise this recipe for its easy to find ingredients and delicious flavour! She also inquires that it's a yummy excuse to eat veggies in cake-form for breakfast (haha, sign me up!) and that her secret ingredient for the carrot portion is not grated carrots, but CARROT BABY FOOD.
Points for creativity while maintaining vegan and gluten-free cake structure and moistness?
I think YES.
6. Vegan Coffee Cake by Hot for Food (Not Gluten-Free, but it can be!)
Recipe Source: https://www.hotforfoodblog.com/recipes/2016/8/8/vegan-coffee-cake
Remember when I mentioned having a hot cup of coffee with a slice of this goodness above?
Well, man oh, man.
That dream just became a reality with this delicious-looking vegan coffee cake recipe that CAN be made gluten-free very easily.
GLUTEN-FREE NOTE: See gluten-free swap-outs list above for your all-purpose flour and whole-wheat flour alternatives.
Also be sure to use gluten-free baking powder and gluten-free baking soda.
7. Vegan Cheesecake Recipe -- With NO Cashews! by Chocolate Covered Katie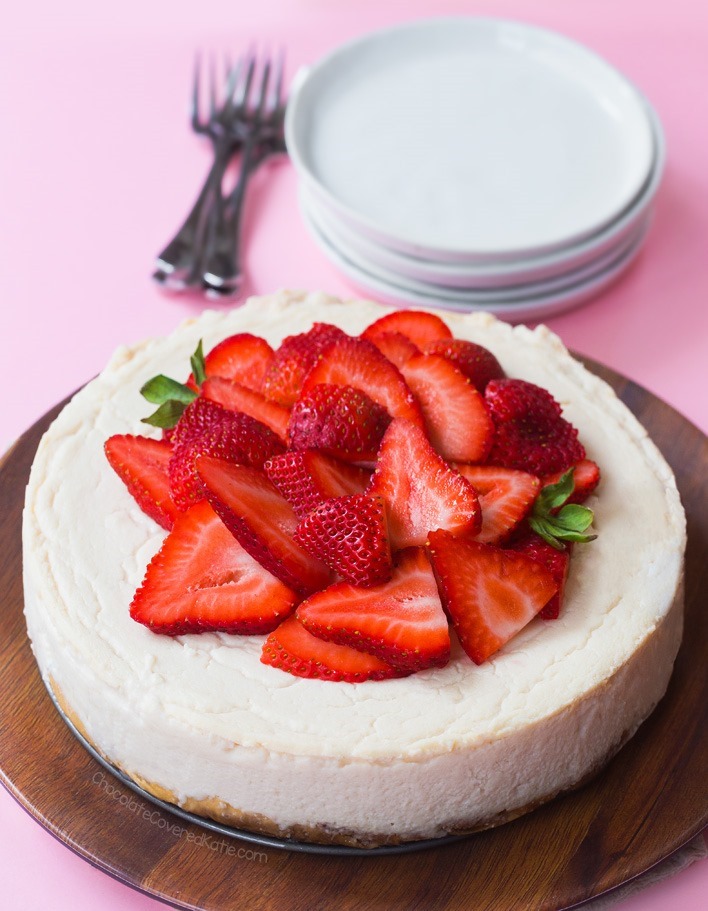 Recipe Source: https://chocolatecoveredkatie.com/2018/06/18/vegan-cheesecake-recipe/
Gluten, nut, soy, and dairy-free, this scrumptious vegan cheesecake recipe is allergen-friendly across the board!
Tested at a party of non-vegans, this cheesecake satisfies all eaters.
Better yet?
Use Violife's Vegan Cheese Original Flavour Creamy for the vegan cream cheese portion for optimal quality.
In the UK customers can receive next day shipping by ordering here before 2 p.m.
8. Gluten-Free Vegan Lemon Blueberry Cake by Rhian's Recipes
Recipe Source: https://www.rhiansrecipes.com/gluten-free-vegan-lemon-blueberry-cake/
This Vegan Lemon Blueberry Cake makes for a fabulous crowd pleaser with its taste, aesthetic, and charm.
Rhian's blog gives lots of helpful tips for subbing out certain ingredients depending on your personal dietary needs.
Sub out blueberries for raspberries, blackberries, or cherries. Use your plant milk, flour, and oil of choice! Did mini add health bonus?
This cake recipe is refined sugar-free and oh so promisingly delicious.
9. Chai Spice Cake with Vanilla Buttercream (Vegan) by Veggie and the Beast (Not Gluten-Free, but it can be!)
Recipe Source: http://veggieandthebeastfeast.com/2014/01/07/chai-spice-cake-with-vanilla-bean-frosting-vegan/
Amazing. Who knew you could add chai flavour to a cake?
Certainly not me.
Recipe developer Katie from The Veggie and the Beast puts a unique spin on her ideal birthday cake with this taste-bud smasher.
GLUTEN-FREE NOTE: See gluten-free swap-outs list above for your unbleached cake flour alternative.
Also be sure to use gluten-free baking powder and gluten-free baking soda.
10, Vegan Elderflower Cake with Lemon Curd and White Chocolate Frosting by Wallflower Kitchen (Not Gluten-Free, but it can be!)
Recipe Source: http://wallflowerkitchen.com/elderflower-cake-bloom-wild-flowers/
IF YOU FANCY.
You'll definitely want to try this.
And funny enough, mashed potato is the secret ingredient.
Bet you would've never guessed. I sure didn't! A unique blend of ingredients, this gorgeous cake will be certain to make you stand out at any event you bring this masterpiece to.
And for an added bonus?
It only takes 45 minutes to make.
GLUTEN-FREE NOTE: See gluten-free swap-outs list above for your spelt flour alternative.
Also be sure to use gluten-free baking powder and gluten-free baking soda.
Other Things You Can Make With Your Vegan, Gluten-Free Cake Batter
Did you know that this batter is good for more than baking cakes?
Check out this list of crazy cool ideas you'll love DISCLAIMER: cupcakes were excused because they're too basic:
Red Velvet Waffles: use a warm cream cheese frosting drizzle as a topper. A fun way to eat vegan dessert or indulge in a delightful breakfast.
Crinkle Cookies: Looks especially neat with red velvet batter, but feel free to use any! Powdered sugar is a great topper for this one. And if you do decide to go the red velvet route, these crinkle cookies are great served at any Christmas holiday party event!
Vegan Ice Cream Sandwiches! Not a bad idea at ALL. I wonder how a funfetti cake outer layer with chocolate hazelnut chocolate truffle Booja Booja Organic Dairy Free ice cream would taste...brb my mouth is WATERING.
Cake Pops: Add a dollop of your favourite icing or frosting. And pop onto a popsicle stick or ice cream cone for added aesthetic.
Birthday Cake Pancakes: Say no more. Follow this link https://www.seededatthetable.com/birthday-cake-pancakes/
Pizookie: In America, they do this thing at this restaurant where they bake a giant cookie, brownie, cake, or bread in a sheet pan and top it off with several scoops of rich, creamy ice cream. You can do the same with the vegan, gluten-free cake batter of your choice and the vegan ice cream of your choice as well! I would most definitely do Vegan Richa's chocolate vegan cake with some non-dairy peanut-butter ice cream. Swoon!
Cake Mix Donuts: Follow the same procedure as is provided above, but pour your yummalicious batter (I made that word up) into some doughnut tins instead! Dribble a melted version of your icing on top and maybe some other toppings? The vegan, gluten-free cake batter doughnut world is your vegan oyster.
Cake Mix Brownies: Completely doable and completely worth it. See recipe here https://cookiesandcups.com/cake-mix-brownies/#_a5y_p=1550170
A Brief History of Cakes
Because why not?
The word "cake" comes from the Viking origin-Old-Norse word "kaka".
And yep, you guessed it.
Kaka means cake.
In olden times, cakes were pretty much bread. The difference was that cakes had a more round and flat shape in comparison.
Additionally, the cooking method helped set the two apart.
Cakes need to be flipped over halfway through the baking process. Bread is left upright and untouched the entire time.
Pretty neat, huh?
Early cakes in Rome included bakers adding honey, eggs, and butter to their bread which turned it into a cake-like baked good.
During the great depression in North America, the cake mix was patented, and in the 1950's, General Mills took the cake mix industry by storm. They then capitalised on consumer-sim and made bank off of various frostings and creative accessories and ways to decorate cakes.
Some severe cake evolution there, huh? Not too many boxed vegan, gluten-free cake mixes seem to exist yet, but until they do-- we'll keep making our from scratch deliciousness, won't we?
Besides, making scratch cake and frosting hands down tastes a million times better.
Quality over quantity my friends.
Who's with me?
What Will You Make?
Chocoholic like me?
Caffeine fiend?
Or are you more one for the sweetness of berries?
Eccentric elderflower?
Maybe some basic vanilla!
Whatever it is you decide to whip up in the kitchen, these 10 fabulous vegan and gluten-free cake recipes guarantee you will impress taste buds of many vegans and non-vegans alike.
REMEMBER: Measurements are CRUCIAL to achieving optimal quality in your baking process. Do not take this with a grain of salt. Take it literally. Also, use salt. It's a required ingredient.
If you are itching for a little more creative baking freedom…
Enter Vegan Cheese Shop's Cream Cheese Frosting Contest
That's right!
Use our Violife Vegan Cheese Original Flavour Creamy spread to create your ideal cream cheese frosting!
Please post a picture of it to our Vegan Cheese Recipe Insider's Facebook Club and whoever gets the most likes and praise, wins!
Wins What?
Four complimentary containers of our Violife Vegan Cheese Original Flavour Creamy spread! You'll be whipping up tasty vegan cream cheese frostings for days.
Let Us Know Your Thoughts
Have more ideas for blogs?
Recipe ideas you'd like to share?
Leave a comment below!
Or better yet, contact us at the top left of the screen.
We'd love to hear your thoughts.
If you use one of Vegan Cheese Shop's products, be sure to tag @vegan_cheese_shop on Instagram for a chance to be featured on our page! Join our Vegan Cheese Recipe Insider's Club for more info on deals, contests, and more!
Happy baking, my new Vegan cake-loving friends.
| | |
| --- | --- |
| |  About the Author |
| | Hello! My name is Rebecca, and I am a lifelong foodie. Now, VEGAN foodie, aiming to provide the best, most fun advice I can on all things plant-based. Join me on a quest always to bring you the best. Always vegan and always food related. Cheers. My Instagram & My Blog |