Vegan cupcakes are SUCH an ideal treat.
Why?
They're individually portioned desserts that allow control over the amount you consume, are quick to bake, easy to decorate, and a delight to impress with!
So, uh, yeah. Cupcakes are def winners. All around.
As a kid, I remember the excitement that often came with cupcakes being served at a friend's birthday party. With options of either chocolate or vanilla (guess which one I always picked...
If you've read any of my past blog posts, you already know) there was something for everyone.
And if they were cream filled?
All the better.
Some bakeries even went the extra mile to spread the frosting in such a way that connected all the cupcakes into looking like a single cake. This made the pull apart process cleaner, easier, and oh so fun. Not to mention totally different from a typical birthday cake. So basically, if you had a cupcake pull apart a birthday cake at your party, you were super cool.
As an adult, cupcakes still make a significant impact at parties; holiday get-togethers, graduations, and more! There are so many different flavour combinations to jazz them up too, like whipping up an apple spice, vanilla batter or chocolate with orange and ginger.
YUM!
But with so much to celebrate and a crazy amount of free range with ingredients, how do you decide what kind of cupcakes to make?
Where do you start?
How do you decide what to buy without breaking the bank or compromising on taste?
I gotcha.
The following is a list of 12 vegan cupcake recipes (1 for every month of the year) that uses seasonal ingredients to ensure quality, price, taste, and spread some eco-friendly lovin' that you, your friends, and your family will love! Plus, some are gluten-free too. Let's check 'em out.
BUT FIRST - More About Those Seasonal Ingredients:
Why are they so important?
Unfortunately, strawberries, peaches, cherries, and figs are not perfect, or seasonally available, all year round.
When you buy cherries in December, for example, they are most likely imported from Chile. A region below the equator. Far from you (hypothetically speaking). Which leads these cherries to be jacked up in price and not support your local farmers. PLUS, these Chilean cherries may lack flavour and good taste because of the extra time they have been sitting around in shipment to you.
When you buy seasonal ingredients like clementine's, oranges, and pears in the winter time (rather than those cherries), your prices will be cheaper, the taste will be more timely and fresh, and your local farmers will be earning the income they deserve by providing to local grocery stores near you!
Image source: https://www.nutriliving.com/infographics/fruits-season 
AS A BONUS
The environment will benefit! Why?
Because CO2 emissions increase when your cherries get imported from Chile in the winter. CO2 emissions also increase when these cherries are grown in mass quantities for those in high demand of a fruit that is not naturally in season in their local area.
SO, yes, shopping for and baking with seasonal ingredients will support your local economy and allow you to reconnect with nature's cycle of time which I think is pretty darn neat.
How to Make Your Cupcakes, Gluten-Free
See a cupcake recipe below that's vegan, but not gluten-free?
Totally doable.
Refer back to my 10 Fabulous Vegan and Gluten-Free Cake Recipes You Need to Try Now blog post for all the gluten allergen-friendly deets!
Necessary Kitchen Tools:
Be sure to have these nifty kitchen tools on hand to ensure easy cupcake baking.
Bowl - to throw all of those ingredients into. Most of these recipes call for one bowl, and even if it technically doesn't...tbh, you can totally make it so. I'm all about making your life easier!
Measuring cups - to measure your ingredients; accuracy is soooo essential when baking! Trust me!
Measuring spoons - to measure even more ingredients; again, accuracy is sooooo so important here!
Electric Whisk - to mix those delicious dairy-free ingredients with power and ease.
Cupcake cups - pretty and frilly, festive and fun, whatever occasion you decide to bake your mini cakes for, you can make them stand out with a creative paper cup wrap around. As a bonus, these allow easy cupcake release from your cupcake tin post-baking and require no oil.
Cupcake tin - once you've aligned your cupcake cups of choice within the tin, pour that delicious, vegan, and possibly, gluten-free batter in!
Cooling Rack - post-baking, a cooling rack will help cool your goodies fast, ideal for getting your frosting on.
Frosting Piper - to frost your cupcakes with bakery-grade skill and ease.
Frosting Piper Tips - customise your frosting abilities with star, leaf, or maybe even rose piping tips to finish off your vegan cupcakes by putting a touch of your own unique design!
Now onto those vegan cupcake recipes!
12 Vegan Cupcakes (For Every Month of the Year):
1. JANUARY - Vegan Apple Spice Cupcakes with Vegan Buttercream Frosting by the spruce Eats
Recipe Source: https://www.thespruceeats.com/vegan-apple-spice-cupcakes-1000885
Great For: Christmas Eve, New Years, pretty much anytime until March!
With apples at the peak of the winter season, caramelising these beauties and throwing them into your vegan cupcake batter is the essence of the season. The four-ingredient dairy-free buttercream frosting (that only takes 5 minutes to make, HELLO https://www.thespruceeats.com/vegan-buttercream-frosting-1001551) tops them off with decadent perfection, and sprinkling on the rest of your caramelised apples seals the deal.
2. FEBRUARY - Chocolate Cupcakes with Orange & Ginger by kitchn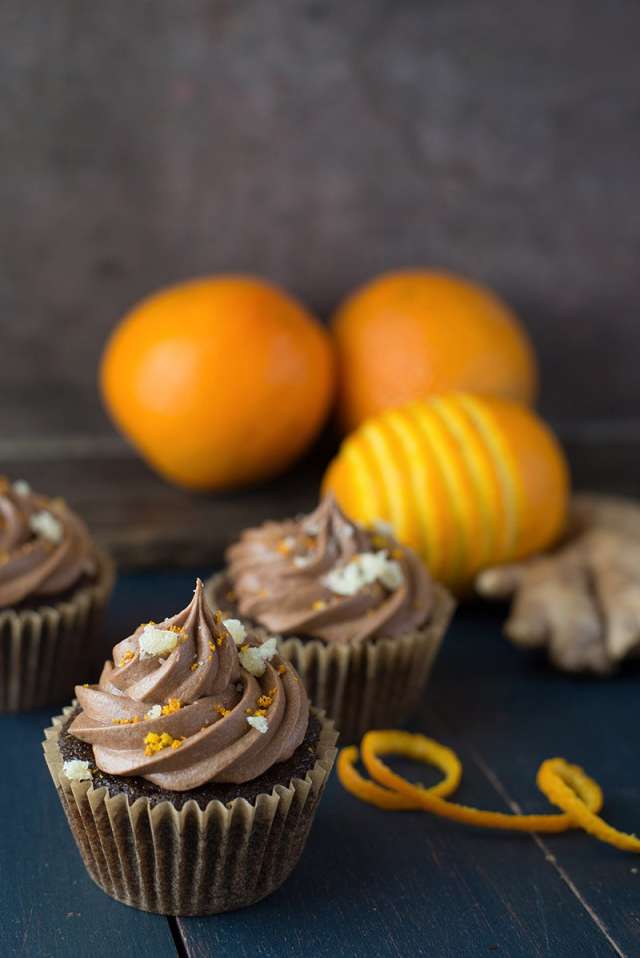 Recipe Source: https://www.thekitchn.com/recipe-vegan-chocolate-ginger-cupcakes-dessert-recipes-from-the-kitchn-110949
Great For: Valentine's Day
The sultry decadence of chocolate cake combined with citrusy orange makes for a decadent dessert that will win the hearts of all who try it! The use of canola oil instead of butter in these vegan chocolate cupcakes ensures premium moistness and the vegan frosting that utilises powdered sugar, cocoa powder, vanilla extract, and orange juice promise for a satisfying bite. Garnish with orange peel and enjoy with a glass of your favourite plant-based milk.
3. MARCH - Gluten-Free Vegan Lemon Cupcakes by Rhian's Recipes
Recipe Source: https://www.rhiansrecipes.com/gluten-free-vegan-lemon-cupcakes/
Great For: Easter, Springtime, Afternoon Tea
Said perfectly by vegan chef extraordinaire Rhian herself, the cupcakes are, "...The perfectly simple, yet elegant dessert." WINNER! And perhaps best of all? They're gluten-free too! Other perks--- it takes just one large bowl, simple ingredients like almond meal, lemons, maple syrup, and vanilla extract, and only 10 minutes to whip together before throwing into the oven and baking! Talk about some easy vegan baking!
Cream Cheese Frosting Alternative: Instead of using the full-fat coconut milk for this recipe, use Violife Original Flavour Creamy Vegan Cheese instead!
Get it tomorrow, if you order by 3 pm.
4. APRIL -  Coconut Kiwi Cupcakes by Kim Garr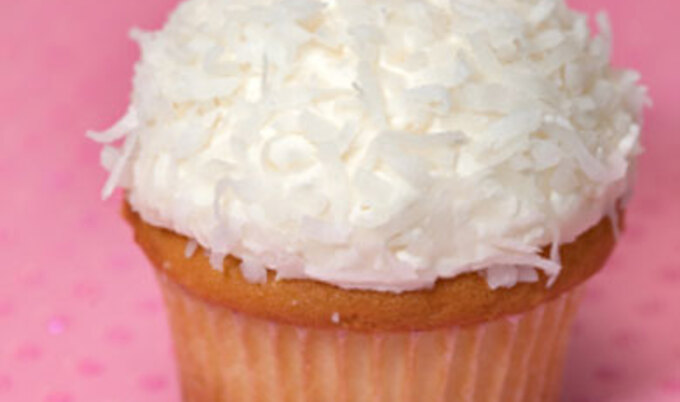 Recipe Source: https://vegnews.com/2011/3/coconut-kiwi-cupcakes
Great For: Springtime Outings like Birthdays or Picnics
This unusual cupcake combination is a proven crowd pleaser with its impressive debut on Food Network's Cupcake Wars. Its use of diced kiwi gives this recipe a unique jolt of tropical flavour that will have your guests anticipating summer coming near on the horizon.
The coconut frosting furthers the joys of spring, making this vegan cupcake recipe taste both fluffy and fresh.
5. MAY - Vegan Banana Cupcakes with Peanut Butter Frosting by loving it vegan
Recipe Source: https://lovingitvegan.com/vegan-banana-cupcakes/
Great For: The Upcoming Summer, Graduation, Birthdays
With summer, even nearer, and possibly fitness on the mind, these protein-packed desserts are a sweet treat from the typical sliced banana and peanut butter drag...I mean, combo. Treat yourself to these super moist, super fluffy and rich cupcakes. And make sure to share them with friends!
6. JUNE - Vegan Chocolate Cherry Cupcakes by Holy Cow! Vegan recipes
Recipe Source: https://holycowvegan.net/vegan-chocolate-cherry-cupcakes/ 
Great For: Holy Cow! Vegan recipes say Valentine's Day, but I say Summer Romance. Even if you make it for you.
A vegan soy free, nut free, and dairy free recipe? Hot damn! This genius recipe also contains a couple of splashes of coffee (the secret ingredient), and the cake itself contains no fat.
Great for summer.
And great for fitness...hehe ;)
7. JULY - Vegan Lemon Cupcakes with Blackberry Frosting by the pretty bee
Recipe Source: https://theprettybee.com/vegan-lemon-cupcakes-with-blackberry-frosting/
Great For: Summer Outings like Birthdays and Weddings
The perfect balance between zesty and sweet, these vegan lemon cupcakes with blackberry juice dyed frosting was great for a hot summer day. They're refreshing, yet delicious flavour combination will give you the joys of freshly picked berries baked into a sweet delight.
8. AUGUST - Vegan Peach Cupcakes with Honey Buttercream Frosting by Minimalist Baker
Recipe Source: https://minimalistbaker.com/vegan-peach-cupcakes-with-honey-buttercream-frosting/ 
Great For: Back to School Motivation or a Wedding Shower
Am I right?
The end of summer is near.
School is probably here.
Hold onto that sun-kissed joy a little longer with these one bowl peachy keen cakes of yum. Minimalist Baker states she made these for a friend's wedding shower of which were uber popular and gone in seconds. Not to mention were served in ice cream cones (such a cute idea!) and used vegan honey for the frosting. You can use either Agave Nectar or Bee Free vegan honey.
9. SEPTEMBER - Spiced Butternut Squash Cupcakes with Maple Cream Cheese Frosting by Gimme Some Oven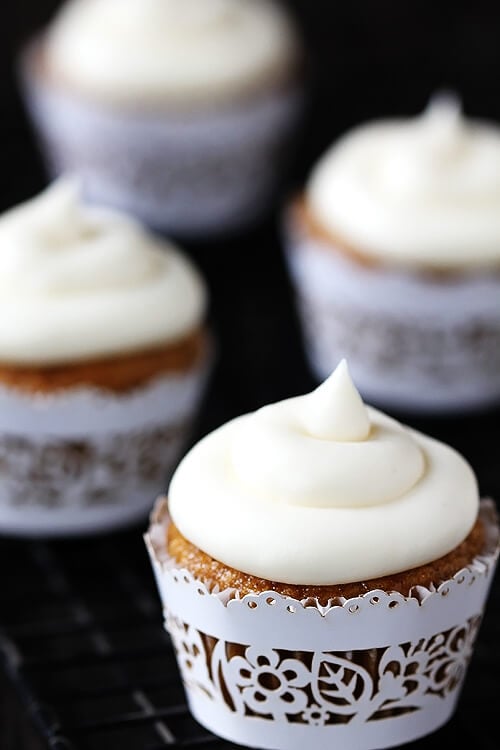 Recipe Source: https://www.gimmesomeoven.com/spiced-butternut-squash-cupcakes-with-maple-cream-cheese-frosting/
Great For: Bringing in the Fall!
I would so try this adventurous take on pumpkin spiced cupcakes (which is next, btw). Pumpkin, while great, gets the limelight quite often, so it's cool that this other delicious fall gourd gets a chance at contributing to a sweet, vegan treat! Maple Cream Cheese Frosting is the literal icing on the cake that seals this puppy together, making it a to-die-for treat. Brb, going to the grocery store right now to buy the ingredients and try this out.
RECIPE NOT ORIGINALLY VEGAN: But you can make it so! Just swap out regular milk for plant milk….
Aaaand that's literally it! :)
Cream Cheese Frosting Alternative: This vegan cream cheese frosting also isn't originally vegan. So instead of using cream cheese, use Violife Original Flavour Creamy Vegan Cheese instead! Also, use a vegan butter rather than the regular stuff.
10. OCTOBER - Gluten-Free Vegan Pumpkin Spice Cupcakes by Sarah Bakes Gluten Free
Recipe Source: http://www.sarahbakesgfree.com/2013/09/gluten-free-vegan-pumpkin-spice-cupcakes.html
Great For: Fall, With Coffee, Halloween Parties
A gluten-free and fantastic classic. This vegan fall cupcake recipe is allergen-friendly across the board! You could probably even win your child's bake sale competition with this crowd pleaser.
Alternatively, you can bake these Vegan Pumpkin Cupcakes which feature on our website. 
Need I say more?
11. NOVEMBER - Vegan Earl Grey, Fig Cupcakes by I Love Crumbs
Recipe Source: http://www.ilove-crumbs.com/baking/vegan-earl-grey-fig-cupcakes
Great For: Birthdays and Celebrations in the Midst of Fall
OH MAN! This recipe is hands down probably one of my favourites on here. Did you know that, other than chocolate, figs are one of my favourite things ever? PLUS, I Love Crumbs suggest adding pieces of dark chocolate to this (minus the figs) but combining the two would be an explosion of heavenly flavour in my opinion. Very, very down.
12. DECEMBER - Vegan Champagne Cupcakes with Passion Fruit Frosting by The Washington Post
Recipe Source: https://www.washingtonpost.com/recipes/vegan-champagne-cupcakes-with-passion-fruit-frosting/12582/?noredirect=on&utm_term=.a45b53d6e4d9
Great For: Ringing in the New Year!
Another Cupcake Wars winner, this vegan cupcake recipe is guaranteed to be the star of the show. As an extra tip, garnish with edible glitter rather than sprinkles to make these puppies shine.
What's Your Favourite Vegan Cupcake Recipe?
Let us know in the comments below!
I know I'll definitely be whipping up a batch of gluten-free pumpkin spice cupcakes this month, the earl grey fig cupcakes for my upcoming birthday in November (Whoo!), And those delectable champagne cupcakes with passion fruit frosting to ring in the New Year!
Man, oh, man.
The upcoming holiday season is going to be a scrumptious, cake and frosting-filled one (that tbh I'll probably continue all year-long, because why not have some useful tricks up your sleeve to last you basically forever, am I right?)!
Have more ideas for blogs?
Recipe ideas you'd like to share?
Leave a comment below!
Or better yet, contact us at the top left of the screen.
We'd love to hear your thoughts.
If you bake from the vegan cupcake recipes listed above or use one of Vegan Cheese Shop's products, be sure to tag @vegan_cheese_shop on Instagram and use #vegancheeseshop in your caption for a chance to be featured on our page! Also make sure to join our Vegan Cheese Recipe Club on Facebook for more info on deals, contests, and more!
Love this post, then carry on with our one about vegan cakes.
Happy cupcake making. :)
| | |
| --- | --- |
| |  About the Author |
| | Hello! My name is Rebecca, and I am a lifelong foodie. Now, VEGAN foodie, aiming to provide the best, most fun advice I can on all things plant-based. Join me on a quest always to bring you the best. Always vegan and always food related. Cheers. My Instagram & |