Vegan Sandwiches.
An easy, satisfying compilation of bun, protein, toppings, and condiments that make a satisfying breakfast, lunch, dinner, or snack!
Yes, a snack.
Not judging those appetites because I happen to have a pretty big one myself.
Especially when training for a half-marathon.
Boy, do those calories BURN!
But less about me, more about you!
If you're new to Veganism (or you want some fresh ideas that involve some delicious vegan cheese!), it may be a challenge to find simple, yet delicious vegan sandwich ideas that won't break the bank or leave you feeling less than satisfied.
Below, I've compiled a list of 10 easy cheesy vegan sandwich ideas for newbie vegans. These simple, yet delicious plant-based recipes are dairy free and veggie-inspired (some are even gluten-free!). Aimed at giving you convenience in your life and not jip you on taste! Great for any time of the day (or night) and will indeed NOT bore you.
Let's get started!
10 Easy Cheesy Vegan Sandwich Ideas
1. How to Make a Vegan Breakfast Sandwich by Chocolate Covered Katie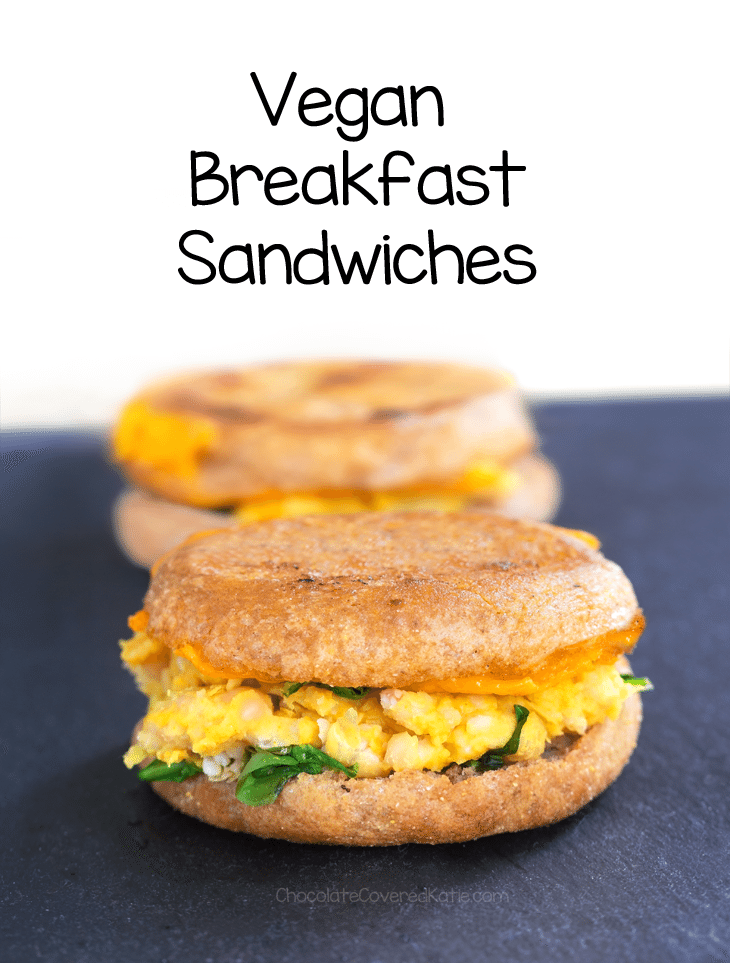 Recipe Source: https://chocolatecoveredkatie.com/2017/01/19/vegan-breakfast-sandwich-recipe/
2. Vegan Grilled Cheese Sandwiches - 3 Ways! by Peas and Crayons
We've spoken about this recipe before in our Vegan Lunches Ideas post. And we love the picture.
Recipe Source: https://peasandcrayons.com/2016/11/vegan-grilled-cheese-recipes.html
3. Vegan Egg Salad Sandwich by My Darling Vegan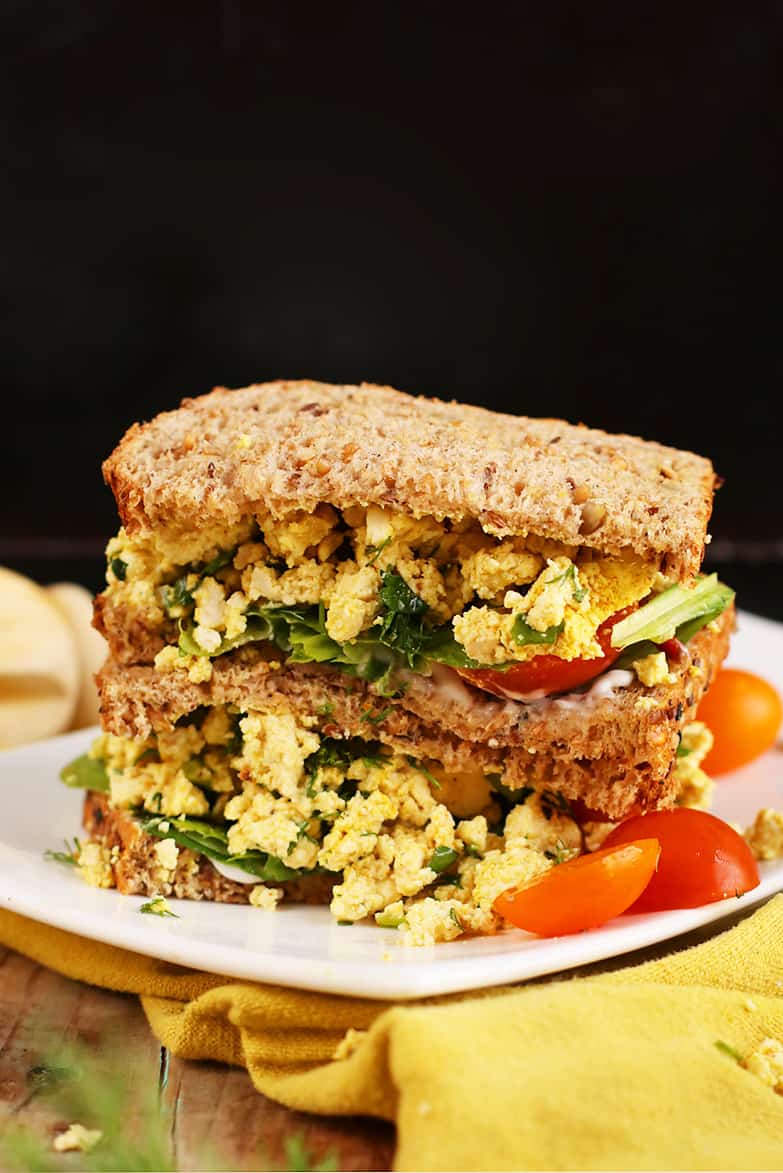 Recipe Source: https://www.mydarlingvegan.com/vegan-egg-salad-sandwich/
4. Vegan Chickpea "Tuna" Salad Sandwich by Sweet Potato Soul
Recipe Source: http://sweetpotatosoul.com/2015/06/vegan-chickpea-tuna-salad-video.html 
5. Simple Greek Avocado Sandwich by Cookie + Kate
Recipe Source: https://cookieandkate.com/2012/simple-greek-avocado-sandwich/
6. Vegan Tempeh Reubens, by Vegetarian Times
Recipe Source: https://www.vegetariantimes.com/recipes/vegan-tempeh-reubens
7. Vegan Tea Sandwiches by Wallflower Vegan
Recipe Source: http://wallflowerkitchen.com/vegan-tea-sandwiches/
8. Vegan Mushroom, Bean Burger Recipe by the Spruce Eats
Recipe Source: https://www.thespruceeats.com/vegan-mushroom-bean-burger-recipe-3378623
9. Vegan Lunch Meat by Rabbit and Wolves
Recipe Source: https://www.rabbitandwolves.com/vegan-lunch-meat/
10. The Best Vegan Ice Cream Sandwiches by The Healthy Maven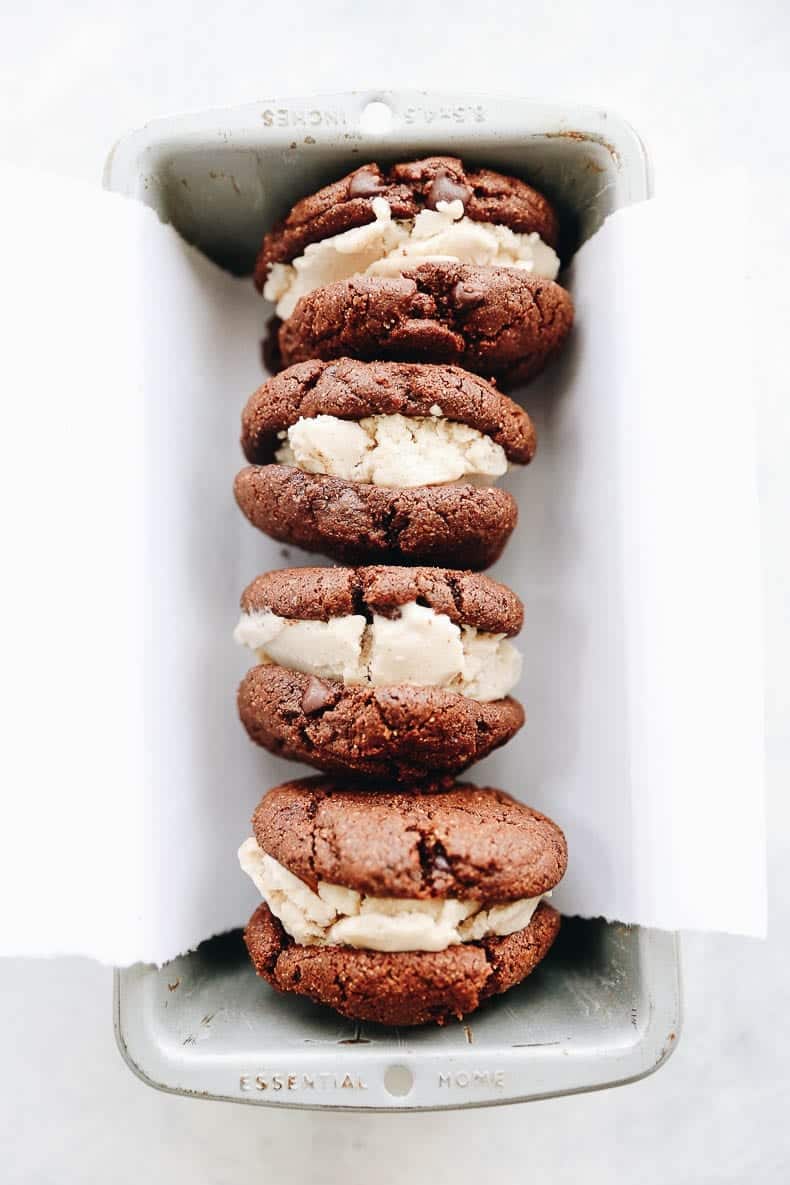 Recipe Source: https://www.thehealthymaven.com/2018/07/vegan-ice-cream-sandwiches.html
Details, Details, Details
More on those recipes!
1. How to Make a Vegan Breakfast Sandwich
Great for: a quick grab and go breakfast.
This soy-free, nut-free vegan "egg and cheese" breakfast sandwich idea from Chocolate Covered Katie is an absolute gold mine!
With just 6 ingredients for the protein, your bun of choice (might I suggest making her whole wheat English muffins? Store bought English muffins, bagels, or crusty ciabatta bread (yes, it's vegan!) work great as well) and personalised toppings make this sandwich to DIE FOR.
Ideal Toppings:
Diced green onions
Shredded carrots
Sliced avocado
Raw or sauteéd greens, ex. Spinach, arugula, or kale
Sunflower seeds
Relish or pickles
Hot sauce if you feel' spicy!
How to Meal Prep It: Either make your bean filling in advance and assemble the morning off. Then heat in microwave, toaster oven, or press with a spatula on a non-stick skillet. OR assemble the night before (why not make a week's worth?) then grab, heat, and go in the morning!
Easy cheesy, lemon squeezy.
2. Vegan Grilled Cheese Sandwiches - 3 Ways!
Great for: those cold, rainy days when you want a little delectable, warm and comforting vegan sandwich treat!
If you read my first blog post, 5 Easy And Delicious Vegan Lunch Ideas for Busy Mums You'll know this recipe is SUCH a go-to with its incredible range of simple to vegan chef-extraordinaire level toppings.
 Perfect for any palette!
Ideal Toppings: check post for more details...but
How to Meal Prep It: Assemble your cold vegan sandwiches the night before. The day of, pop 'em in a toaster oven, Panini press, or non-stick skillet and start melting away!
 3. Vegan Egg Salad Sandwich
Great for: Classic breakfast or lunch! This vegan spin on classic egg salad is rich in protein, spices, and all sorts of phytonutrients from your veggie toppings.
You'll be making all your co-workers jealous of how easy, delicious, and healthy your lunches are!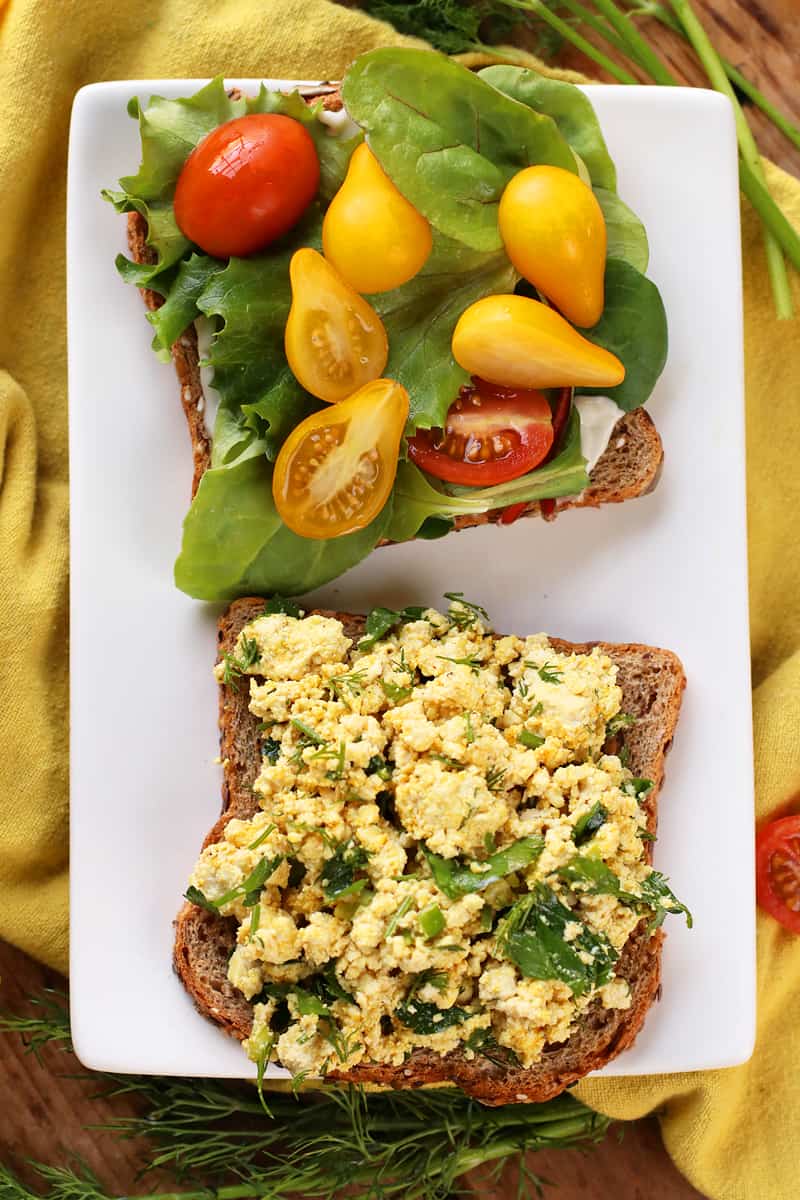 Ideal Toppings:
Mixed Greens
Sliced cherry tomatoes
Sliced red onion
Vegan mayo
Dijon mustard
How to Meal Prep It: Toast your bread! Yes. Very important. Do not skip. If you're assembling a sandwich with juicy tomatoes and a soft/wet protein vegan sandwich spread the night before. Toasting your bread is essential for making sure your sandwich does not get soggy when it comes to eating it the next day.
4. Vegan Chickpea "Tuna" Salad Sandwich
Great For: Pungent, fishy palettes.
Really. This recipe by Jenne Caliborne of Sweet Potato Soul is one of my absolute favourites!
And it's so similar to actual tuna it's CRAZY!!!
I'm not going to lie, going vegan, I had no problemo x-ing out chicken, pork, turkey, or red meat, but fish...Man oh man...fish was the one thing I actually craved from time to time.
Being that this recipe is so similar to the real thing, I must've had it like 20 million times already!
Ha-ha, no joke, if you ever liked fish, this sandwich recipe is the one for you!
NOTE: enjoy open-faced, the old way I used to eat tuna salad when I ate tuna.
Place a slice of your favourite vegan cheese on top of your chickpea "tuna", greens of choice, and tomatoes (see below). Then place in the toaster oven until cheese is nicely melted.
Ideal Toppings:
Sliced romaine lettuce
Sliced kale
Sliced tomatoes
How to Meal Prep It: This wonderful tuna fish imposter takes about 6 minutes between throwing all your ingredients in the food processor and letting it blend! Save in a jar the night before for easy assembly the next day OR toast bread (see recipe #3 above for reference) and have a hardy supply ready for the whole week!
Watch the video
5. Simple Greek Avocado Sandwich
Great For: A refreshing, crisp lunch!
Ideal Toppings:
How to Meal Prep It: Toast bread before for overnight prep OR assemble in 10 minutes the day of!
6. Vegan Tempeh Reubens
Great For: savoury deli lovers.
This vegan tempeh recipe is great because it not only makes for a hearty meat-like sandwich. But this bad boy's house a dairy-free thousand island dressing, sauerkraut, rye bread, and melty vegan cheese that will take you back to those carefree diner days.
Ideal Toppings:
Sauerkraut
Vegan Thousand Island Dressing (see recipe link for details)
Melted Violife Vegan Cheese Mozzarella OR Violife Mature Vegan Grated Cheese to give this winner an extra kick!
How to Meal Prep It: Toast bread. Assemble. Wrap in foil or an airtight Tupperware container and refrigerate. The next day, heat up the best way you can until the insides are warm and that vegan Violife cheese is melted to absolute perfection.
7. Vegan [Afternoon] Tea Sandwiches
Great For: You guessed it. Afternoon tea!
Wallflower Kitchen is THE place for all your vegan afternoon tea needs. The linked recipe (above) contains 3 sandwich ideas, i.e. Cucumber Sandwiches, Sweet Onion and Hummus, and Roasted Pepper and Pesto. Scroll down their page to find others like Artichoke and Hummus, Bean Pate, and more!
Helpful Tips:
Use thinly sliced bread
Salt your cucumber for 15 minutes ahead of time to soak excess water and prevent the tea sandwiches from getting soggy
Spread filling gently and don't over-fill
Remove crusts and cut small tea sandwich-sized shapes with a sharp knife for precision
Maybe use Violife's Vegan Cheese Original Flavour Creamy spread on the cucumber sandwiches instead of the vegan butter option! If you do, let us what you think!
How to Meal Prep It: It is probably best to not meal prep this item. Unless, of course, you pre-chop your veggies and pre-portion out your spreads.
8. Vegan Mushroom, Bean Burger Recipe
Great For: Dinner. Or a hearty lunch!
I'm obsessed with veggie burgers. Especially those that contain mushrooms and beans so this recipe is a definite win! They are filling, satisfying, and the mushrooms give these patties a delicious, almost meat-like texture that will help the newbie vegan do just fine!
Ideal Toppings:
How to Meal Prep It: Make patties in advance, toast bread first to ensure anti-sogginess! Keep wrapped securely in foil or in an airtight Tupperware container that fits the sandwich snugly (to avoid it falling apart inside).
9. Vegan Lunch Meat
Great For: Lunch! Or a quick and easy dinner.
Say whaaaaat?
Vegan lunch meat?
That you can make on your own?
And isn't store bought?
Is cheap?
AND is gluten-free?
Oh.
My.
Goodness.
This recipe by Rabbit and Wolves shows just how simple making at home, gluten-free vegan lunch meat can be. Also, it's hella budget friendly.
Ideal Toppings:
Your favourite hummus
Leafy greens of choice
Sliced Tomato
Get fancy and add a layer of sauteed and mashed sweet potatoes
Vegan mayo?
Your favourite mustard
How to Meal Prep It: Follow that toasted bread method mentioned above, store it in the fridge, and have it ready to grab and go the next day! If you have the time, melt cheese for a warmer deli-inspired meal.
10. The Best Vegan Ice Cream Sandwiches
Great For: Dessert! For yourself or impress your family and friends.
Surprise! Bet you didn't expect to get a dessert sandwich recipe on here! This Vegan Ice Cream Sandwich is sooooo easy to make, why not treat yourself and those you love with this dairy-free, delight?
Ideal Toppings: NOTE: I would roll these already assembled vegan ice cream sandwiches onto the toppings or wrap them in parchment paper and either sprinkle or press the toppings on top.
Vegan chocolate sauce
Vegan chocolate chips
Vegan sprinkles
Vegan cookie crumbles
Vegan gummies
Granola
Raisins
Vegan cereal
Vegan protein bar bits
Sliced strawberries or other fruit
Dried coconut shreds
Cacao Nibs
Dried goji berries
Matcha powder
Espresso powder
Edible flowers
Nut butter ex. Peanut butter or almond
Jam
Himalayan pink salt
***THE POSSIBILITIES ARE ENDLESS!!!! ***
How to Meal Prep It: Your vegan ice cream of choice can be bought ahead of time at your local grocery store. As for the cookies, it's best to make them right before serving. However, you can make the batter ahead of time! Just be sure to wrap and refrigerate it before use.
So, you may be wondering, what do vegans have on their sandwiches?
You mean what do vegans NOT have on their sandwiches, am I right? The above is a list to get started on your amazing vegan sandwich-making journey. You can have your cheese, your rich, meaty textures, your egg-like salads and breakfast melt. The world is your oyster when you're vegan.
What Vegan Sandwich Will You Make?
With so many options and flavours galore, where will you start?
What catches your eyes the most?
What makes your mouth drool and your taste buds tingle?
Leave a comment below!
There are so many excellent benefits to going vegan or even dabbling in the stuff. You're doing a long list of things a favour by eating a plant-based diet, including you!
So keep it up, you plant-powered superhuman, you!
Try a recipe or make your own that you'd like to share with us? Post to Instagram and tag @vegan_cheese_shop for a chance to be featured on our page! Or better yet? Like and share to our Vegan Cheese Recipe Club on Facebook.  
Happy sandwich making!
| | |
| --- | --- |
| |  About the Author |
| | Hello! My name is Rebecca, and I am a lifelong foodie. Now, VEGAN foodie, aiming to provide the best, most fun advice I can on all things plant-based. Join me on a quest always to bring you the best. Always vegan and always food related. Cheers. My Instagram & My Blog |